---
FINNIGAN'S PUB - Ottawa - December 31, 2007
New Year's Eve Bash
---
HELIUM is proud to have concluded the year 2007 at its most popular venue. We worked very hard this year and toured non-stop. We owed it to ourselves to ring in 2008 in the company of our friends and family. They, in turn, were glad to have us home for the special holiday.
We played for a generous and happy crowd. Believe it or not, barely any champagne was spilled and the treat of beef on a bun definitely did not go to waste. With magic flutes and party hats in hand, as well as a fine acoustic Auld Lang Syne, the countdown to 2008 was truly delightful and heart warming to all. We thank our buddy Johnny Sly for strumming that acoustic with class. Love ya man!
This party would not have been such a success without the coordination and cooperation of our colleagues Drew Dobson, Adam G., Christie, Paul, KJ Roundcat and Collie. A true professional bunch! Their welcome is always sincere.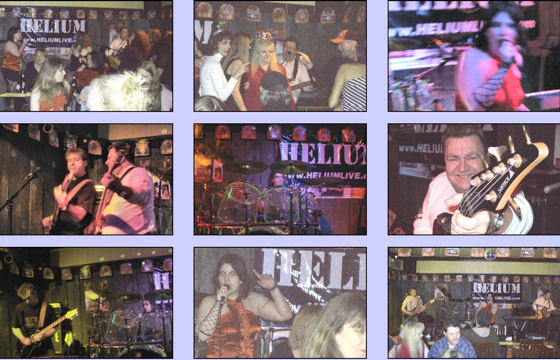 Pictures were taken by many of our friends and we'd like to thank Marty, André, Véronique L., Paul Lauzon and Johnny for their contribution. We are still screening for the best shots to make the site. Some are still coming in, making it very difficult to choose.
We continue to thank all patrons for the tremendous support received every time. As entertainers, we often feel like we're the guests being entertained. Finnigan's Pub goers have the knack for doing that! We're already anxious about next year's bash. Please believe that HELIUM will never let you down. Happy New Year everybody and all the best!!!
---
THE PHOENIX - Brockville - December 22, 2007
---
This was HELIUM's first visit to The Phoenix. Rumor has it that this venue is always bouncing. Indeed it was! The place was absolutely packed. The worst part is, it usually gets even fuller. Perhaps the remaining of the bar regulars were busy getting ready for Xmas. We can't wait for our next invite to try and catch it at maximum capacity.
This gig, being our first at this location, gave us the chance to test what kind of song selections we can get away with. Our choice of set for that particular evening proved itself to be solid. Perhaps only a couple of tunes kept people guessing. All others kept people on their feet all night long. The stage setting is ever so cozy and the sound projects with excellence.
We enjoyed working alongside with DJ Steve. His song rotation was clearly well thought of and his choice of Xmas tunes near the end of the evening was perfect. We also tip our hats to waitresses Brittany, Jessica, Shelly and Marcie for working so hard, as well as John and Chris with his team of fellow bouncers. It was a pleasure to celebrate an early Xmas party with such a great bunch of people.
We truly hope to make The Phoenix one of our best new 2008 venues. We are awaiting confirmation for additional dates real soon. Be sure to come along when we do. Until then…take care!
---
ATKINSON'S BAR - Shawville - December 21, 2007
---
We expected this gig to be a quiet one figuring that everyone would be too busy wrapping up their Xmas shopping. To our surprise, it was fairly busy! A couple of our friends from Ottawa joined us looking for an early Xmas celebration of their own. So…that's what we did. Santa hats in hand and all…Hugs to Johnny and Joanne for coming along.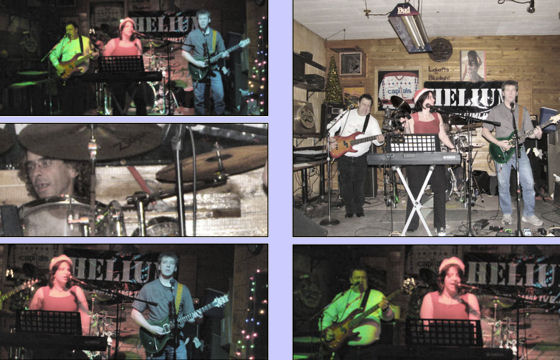 There were many young rockers in the house who had themselves a ball. We received a lot of thumbs up from one group in particular who thought they'd stump us by requesting some Offspring. We delivered! They all went nuts on Crazy Train upon conclusion of the evening as well. It was an awesome night!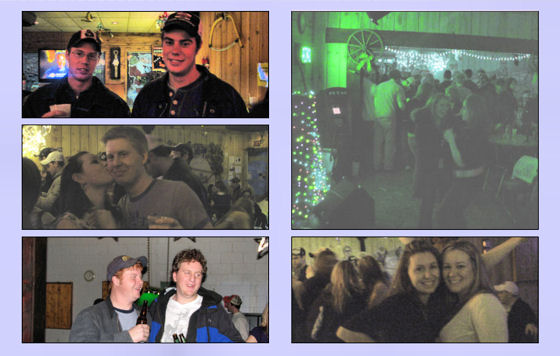 Thanks to the wonderful people of Shawville for a great time and for showing some Xmas cheer. Kudos to the staff who kept up with the action: Amanda, Kathy, Lisa and George. We will see you again in late February. Until then!
---
PRIVATE PARTY - Gatineau - December 14, 2007
---
C'est le temps de l'année pour les « partys » de Noël. L'organisation et le déroulement du party des employés du programme canadien de prêts aux étudiants fût un grand succès. HELIUM était honoré d'être en charge du spectacle et d'être inclut au grand lunch, aux tirages et d'avoir reçu des petits cadeaux complémentaires. Le lunch était fourni par le service de pourvoirie/ resto Lindocile. Tout était absolument délicieux et très bien coordonné. On a même sucré nos becs avec de merveilleux petits désserts. Excellente sélection de nourriture !
After a few draws and after everyone ate to their satisfaction, we were ready to take the scene. Mr. Sean Jones initiated the music with a few Christmas songs armed with only his acoustic guitar. His number was terrific and appreciated by all. The resonance in the St. Joseph Church basement truly is fantastic. HELIUM kept the guests entertained with classic favorites and insisted on keeping them up on their toes. We were really impressed with the crazy synchronized dancing we witnessed…Team spirit like we've never seen before. You can bet that the Canadian Student Loans Program employees deserved this Xmas party and really took it seriously to unwind.
On aimerait dire merci à notre ami, M. Robert Daniel, pour avoir partagé sa grosse voix avec nous sur scène avec ses Calines de Blues et son Deep Purple. Le gars ne lâche pas à nous surprendre. Finalement, un dernier gros merci à tous les organisateurs de cet événement pour un très bel après-midi. Ca nous ferait un grand plaisir d'y retourner si le besoin se présente de nouveau. On souhaite un Joyeux Noël et Bonne Année à tous ! « Rock Style » ! Prenez soin.
---
PHATTY KATS - Cornwall - December 7-8, 2007
---
A long awaited return to the Phatty Kats it was. We had a ball, as we expected, with our pals from Cornwall. The regulars continue to cheers us on and we continue having good times with fantastic people. HELIUM got to work alongside with DJ Hightower, Rob Rusaw, Rick Emond and Johnny Sly all weekend. The cooperation among us truly added a certain "edge" to the group dynamic.
Guests and patrons were on their toes and hoppin' non-stop. It was really nice to see! CWA Wrestling was also active in town on the Friday evening. We were fortunate enough to welcome some its goers after the main event. Each had enough stamina left for one last round with HELIUM. A couple of us grabbed some posters as souvenirs.

Unfortunately we missed our regular staff buddies: Denis, Lisa, Kenny and Kevin. They're all out together in the Dominican Republic having their buns shined on! Lucky sons*! We'll have to catch them on the rebound and demand on seeing some pictures.
Flo gave away 2 pairs of drum sticks to 2 devoted fans. The encouragement and compliments we received during the weekend was simply incredible. It's a great feeling indeed!

We thank barmaids Josée and Kerri for keeping up with our thirst, lovely Christine for demanding an encore performance of our Evanescence cover, Denis, Tom, Clark, Crystal, folks from the Corner Pub, the native fellow who insisted on getting us a round of shots, and many others whom we got to converse with.
Season's Greetings to all and we hope to see the Cornwall gang real soon in the New Year. Cheers!
---
EL RANGIO - Ottawa - November 23, 2007
---

Our first visit to the El Rangio was very pleasant. The set-up is pretty cool with the mirrors and all. It definitely adds some glamour and pizzazz to the stage. The owner, Peter, welcomed us with open arms and demonstrated such enthusiasm towards our music. We got a kick out of the wicked light show he provided, as well as his DJ skills in between sets. He's a great little dancer too! Cheers buddy! Your lovely bartender, April is also very courteous. We appreciate great service.
We met some very nice people and fulfilled many song requests throughout the evening. They love country music out there…so we made it a point to keep our selections on that borderline. Fan favorites like Mustang Sally, Old Time Rock n' Roll, Mellencamp's, etc. kept us alive no questions asked. We even got away with a French tune requested by Nicole.
Some of our "loyals" from Smiths Falls drove out for a peek. What a surprise! Huge thanks to Thomas, Brenda and Christel for traveling out to party with us. Christel brought her camera along and we appreciate the souvenirs she captured. Some are sampled on this page.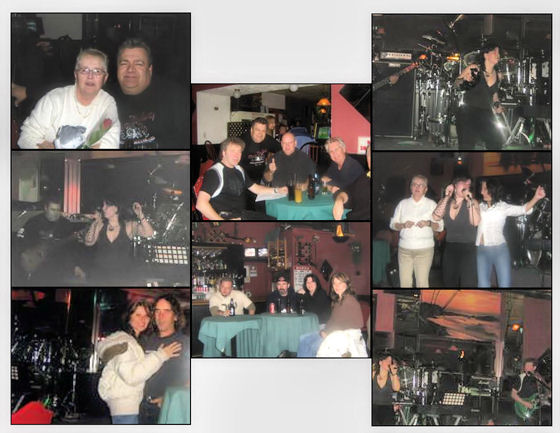 HELIUM also enjoyed catching up with good buddies Ben, Bam Bam and Richard (Wabbit), Marty, Ken & Nancy, Jo, etc. They can all be a rowdy bunch once alcohol fueled! Ha ha. We also send our hugs and salutes to lovely Melody of the Black Cherry Band for stepping out into her backyard to see us perform. Thanks girl, your encouragement is cherished. Some more thanks go out to Hélène, who interrupted her suitcase packing for her trip to Puerto Vallarta in the morning. She insisted on getting one more HELIUM fix before she leaves. Hope she has a safe and fabulous trip. Bring back souvenirs will ya?!
HELIUM will be rescheduled to the El Rangio in the New Year. It is worth the trip, so come back in great numbers. Thanks gang!
---
PENALTY SHOTZ - Cardinal - November 17, 2007
---
HELIUM took it nice and easy this weekend for our return to the Penalty Shotz. Two members are still dealing with illness. This damn flu bug this year is quite stubborn and refuses to leave. It seems that way for other people we know too! Luckily we had Dr. Paul and Joanne, as well as Nurse Megan on hand for quick remedies. Them Cherry Whiskey and Fireball shots sure took care of those feverish "malaises".
Bob ensured on bringing the mandolin along for this show as he would have been slapped on the wrist if he had forgotten it. Acoustic arrangements are always appreciated in Cardinal as we've learned over the years. The owner insists every time! Everyone had a blast and we're very content with the outcome of the evening.
Many thanks to all of those who attended despite having Bon Jovi playing some kilometers away. LOL! We are coming back to The Shotz in late January. It will be HELIUM's first 2008 gig. Don't miss it gang!
---
FINNIGAN'S PUB - Ottawa - November 3, 2007
---
HELIUM had no objections on coming back to Finnigan's Pub so soon. It had only been 2 weeks since our last visit. For unfortunate reasons, another band had to cancel, leaving the gig open to us. No problem at all.
Two members still struggled with bad colds, yet no one could tell. Although we're sure they both craved their pillows, we're proud to say that they survived a good musical weekend nevertheless.
We wanna thank all them regulars for another fun rockin' time. Some shout outs and thanks to: Rob Niman of Solar Architect, Marty, Jesse, Stéphane, Joanne, Joelle, Mike, Tina, Mario, Annick, Cassidy, Joan, Amanda, Steve, Francine, pretty blonde lady, Steve A. and friend, rowdy loud dude, as well as bar staff Jay, Nadine, Paul, Tom the KJ and Mr. Doorman for another pleasant evening together and for remaining the most focused audience in the house.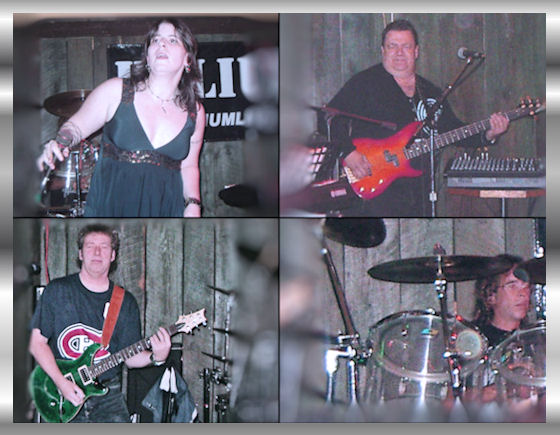 HELIUM is anxious in returning to Finnigan's Pub for this upcoming New Year's Eve Party. Invites go out to all. Tickets will be available in mid-December. Expect food, champagne, karaoke, dancing, party favors and, of course, another grand ol' time with yours truly. We hope to see you there. Take care.
---
ATLANTIC HOTEL - Alexandria - November 2, 2007
---
This was our first visit back to The Atlantic since July. It was nice to be reacquainted with our friends of Alexandria. Cold and flu season hit one of the band members, but rest assure, this didn't affect the delivery of another great show.
Our good friends Mike and Tina stopped by to say hello on another one of their drives. Distance is no issue for them as they are true HELIUM loyals! Thanks for allowing Brigitte to browse through your medicine cabinet and for feeding J.P. them Coors'. Chloe, Dayna, Julie and Joanne filled the dance floor very nicely and went a little nuts during Crazy Bitch. They sure asked for it! LOL It was our pleasure. We also felt it necessary to dedicate a French favorite to our buddies Jimmy and France. We know how they appreciate our rendition of Jean Batailleur. We just couldn't let them down.

HELIUM salutes The Atlantic staff: Bridget, Richard, Josée and Jeff, the doorman. Thanks for another awesome greeting and service. Hope it wasn't too loud and we look forward to another invite soon. Don't make us wait too long this time! Until next time.
---
HUXLEY'S ON MAIN - Renfrew - October 26-27, 2007
Halloween Party
---
HELIUM felt proud to initiate the weekend long Halloween celebration at Huxley's. Although the actual costume party was on schedule for Saturday only, some guests eagerly wore their masks on the Friday. So…we all got a sneak peek on what to expect.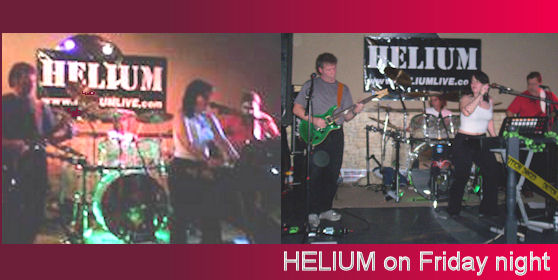 "Happy Halloween" is all we have to say!!! HELIUM had their fun dressing up and were really impressed with all the original costumes and disguises roaming around. Lots of fun and laughs were shared. Of course, prizes were awarded to the best male and female costumes in the house. Congratulations to the lovely Pixie Lady and to Mr. Pervert Man for claiming those prizes. Pictures have been posted below. More pics of other contestants are available to view in our Photo Album section.
HELIUM performed for a generous crowd on both nights. We wanna thank our good friends Zabidou, Donna, Hélène and Joanne for taking the time to take some photo shots without being distracted by all the action. At one point, no one knew where to turn their heads as there was too much to look at. We also couldn't help but chuckle when Bob The Reaper had his turn to sing. All you could see was a black hood. It kept people guessing where the baritone voice was coming from. LOL! Brigitte became another pirate's wench for a short while, Flo insisted on having a classic Kiss makeover and…J.P…well…we're still not sure what his intention was. Some kind of Beach Bum/Habs fan. Perhaps it was to provoke a bit of controversy on obvious Senators turf. At least his t-shirt reflected on the outcome of that night's Montréal Canadians game as they were victorious!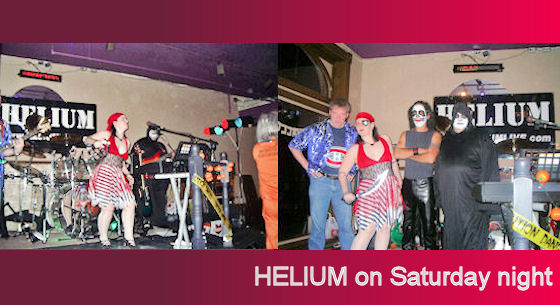 Huxley's staff kept up with the action as well. April made a beautiful Pocahontas and we still agree she makes the best Caesars ever. Tina, unfortunately, missed out on this event, although she was present on the Friday. It's too bad, 'cause we were all looking forward on seeing her costume idea. Cheers to you regardless, Tina! Mitch and both bouncers were courteous enough to help us haul our gear up and down the stairs. How we appreciate that!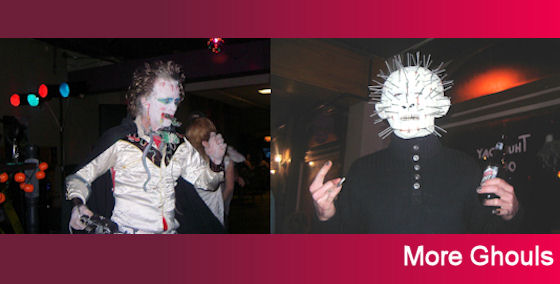 Yep…good times altogether. HELIUM won't forget Halloween 2007. It will be kept precious in HELIUM archives. Until next time folks!
---
FINNIGAN'S PUB - Ottawa - October 20, 2007
---
What better way to end our weekend than with our friends of Finnigan's Pub. We were very content to set up on the ground floor this time. It's such a relief not to use those stairs anymore. The room filled up pretty nice and party glow was everywhere in sight.
Many came out to celebrate the pub owner's birthday. Happy B-Day to Drew once again. We're glad he partied with us and the rest of the gang, and we're also glad that he was still standing at the end of the night. Lol What a guy!
HELIUM allowed themselves to deliver an aggressive set on this night, as it's no secret how these patrons enjoy their hard rock. We became louder and louder towards the end of the night…No rest for the wicked! Just when we thought we were through, the people kept screaming for more. Unfortunately, we don't make the rules. The pub has to close at some point!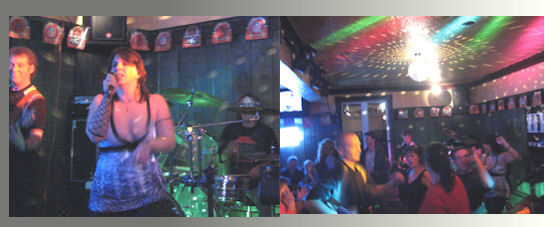 You can bet everyone had a blast. HELIUM sends their salutations to the following people. Brace yourselves, there are many: France and Mel, Nathalie, Marty, Jesse and Sarah, Kevin and Caroline, Ken and Anne-Marie, Jerry and Bev, Kevin Pinks of Fanatical Jack with wife Tammy, Dwayne the Dweener and girlfriend, Paulette and hubby, Gord and Melissa, Sue L. and friend, Annick, Amanda, Liz, Marc Roundcat, Sonny and the girls, Newfie Glen, Patti and friends, Adam L., Serge P., Bobby, Chantal, Tara, Mandee…and sooo many others. Kudos to all of those who found the space to dance. You all looked so good shakin' your stuff.
The staff did a good job as usual and we must thank them as well: Jay, lovely waitress (we didn't get her name), Paul and Tony. HELIUM enjoys working with you and will continue to do so. It's a date for New Year's Eve! Hope to bring in the year with the entire crew once again. Take care loves.
---
ATKINSON'S SPORTS BAR - Shawville - October 19, 2007
---
The road trip up to Shawville is quite the adventure. A topsy curvy road pretty much all the way. There was also a lot of wildlife activity out on this night. Cute raccoons, deer, porcupine and even skunks roamed around on almost every corner. It's always pretty cool to spot them every now and then.
We arrived to Atkinson's in one piece. This was our second visit. Now that we knew we could get away with stuff like Ozzy Osbourne from our previous visit, we felt a lot more comfortable with the rest of our set. It can become intimidating at times, especially if you're mostly dealing with country music fans. Our selections fit the bill very well after all…all was good. We even fulfilled a number of song requests for Britney, Cathy and Ashley.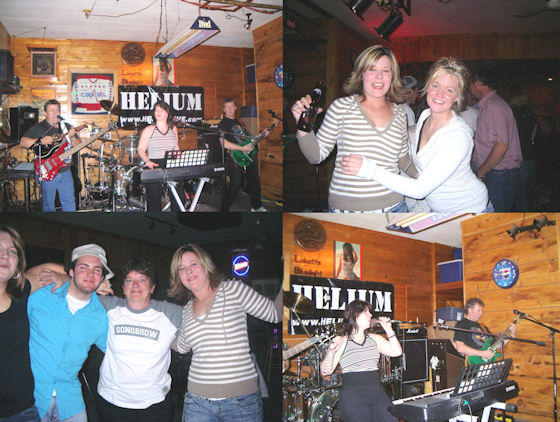 HELIUM wants to thank the staff: Amanda, Kathy, Lisa and Mr. "Hunter" Bouncer. (Congrats on the moose catch) Thanks for another pleasant evening. We hope to return soon. "Til then.
---
PENALTY SHOTZ - Cardinal - October 13, 2007
---
HELIUM was very happy to party with their friends from Cardinal again this past Saturday. We always have a great time when we visit. We made ourselves some unusual fun this time around when it came down to our set list. Instead of planning the sequence of songs, we drew each song from out of a hat. No questions asked. Quite a twisted change…lots of fun!
Now that hockey is back, you can bet that the clientele warms up to the music a lot faster. Dancing was no issue for the folks we had present among us. They simply didn't stop! Doug and Pat from Vancouver, as well as their friends were truly the rowdiest bunch in the house. They added a great positive edge to this Saturday night party and we were pleasured to meet and chat with them. Hope they decide to visit again in the near future.
Our buddy Steve was ecstatic to come up and sing Copperhead Road with us on stage. He had the perfect twang to fit the song and we're proud of the job he did. Paul, the owner, had his fix of stage spotlight again! He likes to act either as an air guitar player or as a back-up vocalist. A very versatile and multitasking individual indeed! We always look forward to see what he'll do next. Unfortunately, we do not have any photos to show him off this time.
HELIUM thanks the many regulars who continue patting us on the back: Joanne, Audrey, Smiley Rob, Bear, Mary Loo, etc. Where was Bernie this weekend btw?!? One more shout out to bartender Sheena, whom we hadn't met yet. Thanks for your service girl. Your B-52's were perfect.
We will be going back to the Shotz in mid November. Why not take a little drive out and come party with us HELIUM style. Hope to see ya there folks!
---
HUXLEY'S ON MAIN - Renfrew - September 28-29, 2007
---
Our weekend in Renfrew was a blast. We met some more "crazies" and were reacquainted with familiar faces from our previous visit. HELIUM was pleased to hear how our come-back was so long awaited. You can bet that our crowd did not disappoint us.

Things kicked up pretty nice on the Friday evening, but Saturday is when everybody shone. We applaud sweet Tabatha for a good vocal job on Summer of '69 and for her non-stop dancing. Man, look at her go! We were also fortunate enough to celebrate 2 birthdays. Hoping they had a good one, Happy B-Day to Gord and Jeff once again.

Some great chats were also shared with visitors Brian and Brennon from Sudbury, as well as Rick from Texas. Good friends Hélène, Jo and Jo-Jo dropped by from Ottawa to support us as well as our good buddy Joel from the band Money Shot along with his wife Regina. What good sports! Please believe that your presence was felt and very much appreciated!
HELIUM would like to send some more shout outs to Furdog, Barclay, Todd, Amy, long black skirt lady, all members of the Half Cutt band and many others for spending an awesome weekend with us. Kudos to the Huxley's staff: Shannon, Crystal, Mitch, Shauna, Dana, James, André, Rob and lovely Tina. They totally treat us very well and we enjoy their company.

HELIUM is hosting the Huxley's Halloween Party this 26th and 27th of October. We plan on dressing up… Do not miss out on another wicked time!
---
O'SHACK VILLAGE - Clarence Creek - 22 septembre 2007
---

Le dernier festival de l'année 2007 au village O'Shack fut un grand succès pour tous. HELIUM a animé une foule approximative de 600 personnes. Les gens se sont mis dans l'esprit de célébrer un dernier « party » en plein air avant la conclusion de l'été. C'était toute une fureur !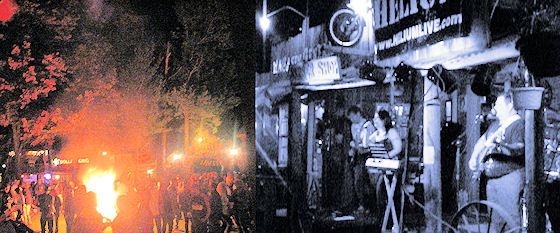 Ceux qui ne connaissent pas l'experience du O'Shack, manquent quelque chose d'original. On se croit dans le milieu d'une vieille ville « western » avec un entourage de motos et de cuir plutôt que de chevaux et de cow-boys. Le village offre toutes les nécessités et croyez que chaque « shack » a sa propre spécialité. C'est toute une aventure !
Les visiteurs du O'Shack tiennent le festival bien à coeur. La participation, venant de leur part, est tout à fait exceptionnelle. HELIUM ne pouvait s'empêcher de se nourrir sur cette énergie et s'est assuré de combler les besoins « rock » ! Ca danse, ça chante, ça boit, ça trippe...et ça se garde au chaud près du gros feu. Un fun inoubliable !
HELIUM aimerait remercier Fern et Lisa en particulier, une deuxieme fois, pour notre invitation. Leur ouvrage et réalisation à l'expérience O'Shack est admiré et encouragé par tous. Ne lâchez pas et prenez grand soin de vous.

Nous tenons à remercier Johnny Sly, Véronique Larose et Paul Lauzon pour leurs prises de photos. Ils ont tous été pas mal occupés ! Nos prises préférées seront affichées au site bientôt. Finalement, on aimerait remercier davantage tous nos ami(es) qui se sont présentés...la liste est trop nombreuse, et puis à tous ceux et celles qui ont interagit et qui se sont introduit à nous. On s'est fait du fun en tabar slash !!! A la prochaine gang !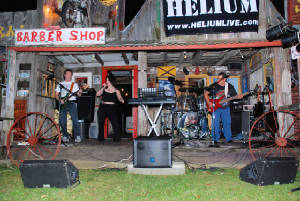 ---
PLAYER'S SPORTS BAR - Smiths Falls - September 14, 2007
---
If there is an Ottawa outskirt where we've established a great following in the last 3 years, it's definitely in Smiths Falls. The friends we've made out there are truly our most loyal. We all had a fabulous Friday evening catching up with the gang and performing a series of their classic favorites.
The only downer of the evening, really, was the rain downpour we endured while packing up at the end of the night. Not exactly what you want after a busy show! At least we got to mingle with our friends a little longer.
HELIUM would like to say thank you to Brenda, Karen and Dean, Sonja, Christel, Nancy and Tom for their continuous rev and support towards the band, Cynthia V. and Greg for having their cameras in hand for some photo shots, Mike and Tina for driving up from Ottawa to join us (again), Dionisia and Steph for looking pretty and being the cool girls that they are, Ed and Nadia, Abib, Rebecca and Charles for rocking hard as expected. We truly owed it to every single one of them to make their evening a special one. Another great time!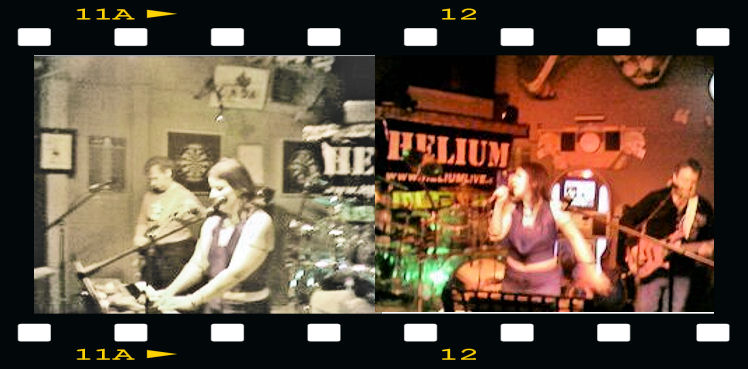 Photos Courtesy of Cynthia V.
A final shout out to Scott and Kristen, the hard working staff. It was really nice seeing you again and we await our next visit. See you soon.
---
JR'S PUB - Almonte - September 8, 2007
---
After one year, HELIUM was able to fit in JR's Pub to its busy schedule. The pub was exactly as we remembered it…quiet and intimate. A quieter night was well-deserved after all of the private parties we've performed over the summer. Being able to play under tame circumstances felt good for a change.
We each had a small group of friends present among us. We found it cool that they all shared the same tables even though some were strangers to each other. Everyone mingled in pleasant harmony. We wanna say hello and thanks to Wayne and Gaye who continue showing us their support and loyalty (they follow us everywhere), Jason and Lesa for their awesome surprise visit and for volunteering to take some pics, Flo's buddy Dwight, Marty and Fiona for challenging us with a variety of song requests and finally, all the patrons and the metal head lover by the pool table who showed good appreciation in having us back.
A final thank you to the staff: Jeff, Darleen and Stacey. It was a nice welcome back and trust that we enjoyed the pizza! Hope to see the gang again soon.