---
PARTY PRIVÉ - Clarence Creek - le 25 août 2007
---
HELIUM s'est présenté à Clarence Creek samedi dernier pour célébrer le 40iemme anniversaire d'une femme chaleureuse au nom de Josée. Croyez que c'était le party le mieux organisé où nous nous sommes présentés !
Les organisateurs nous ont installés dans le plein air sur un lot parfait, couvert d'une grande toile. Heureusement les orages prévus se sont calmées par le temps que l'on a débuté le spectacle. Josée a longtemps souhaitée avoir un party de ce genre et s'est sentie tout à fait honorée d'avoir un groupe musical présent à cette occasion. Elle a certainement une grande famille et un bon nombre d'ami(es).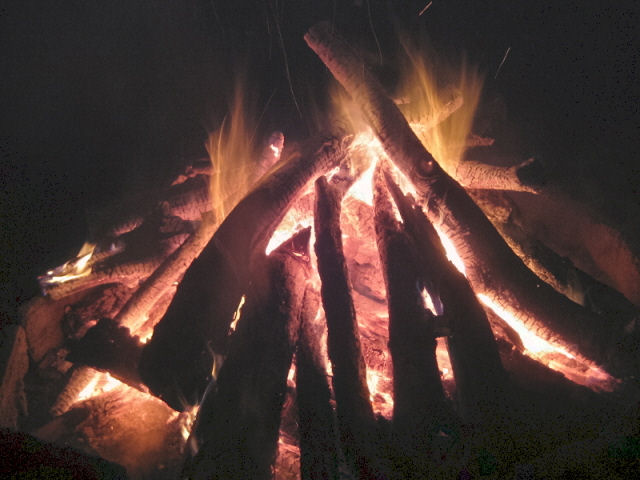 HELIUM a pu profiter du souper, ainsi qu'à l'ouverture des cadeaux, à la présentation des photos et finalement aux feux d'artifices. Même, que l'on aurait pu se baigner dans le lac tout près mais le restant de l'action nous a gardé agréablement occupé.
Durant le spectacle, à notre surprise, nous avons remarqué une p'tite fille âgée de 4 ans nommée Jenna Rose, dansé sans arrêt. C'était tellement spécial de la voir aller qu'elle a mis un sourire permanent à nos lèvres. Tellement cute !
En effet, on a tous passé une soirée formidable. Nous aimerions remercier en particulier, Louis et Sylvie, Dominic, Kim et Eric, Fernand et Pauline Martel, Mario, Hélène, ainsi que Martin pour leur accueil et leur aide à la réalisation de ce party. Très bonne gang et on espère pouvoir travailler avec eux dans le futur.
Passez un bel été et à la prochaine !
---
ATKINSON'S SPORTS BAR - Shawville - August 24, 2007
---
This was HELIUM's first visit to this nice little bar. We were invited to play for a Stag and Doe Party. The drive up wasn't as bad as we figured. We made good timing and even let an undecided/confused deer cross the road.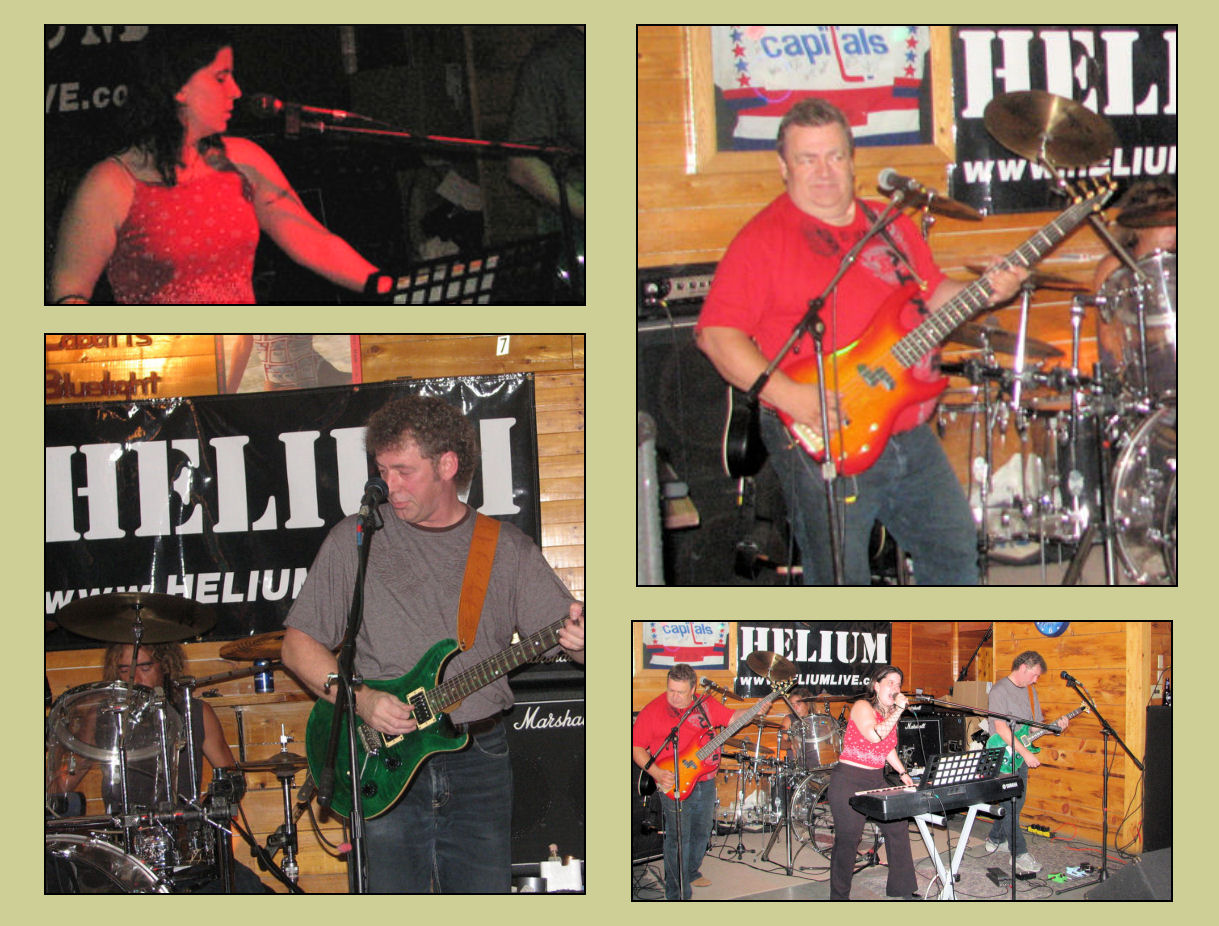 The staff welcomed us very nicely and reassured us that we weren't limited to play only country hits. What a relief! Our set fit the stag party very well and we're glad everyone had a good time. HELIUM wishes Derrick and Kim a wonderful wedding on September 15th and the best of romance. We also congratulate all of those who won prizes as part of the 50/50 draw. Hope the winners take caution with the alcoholic beverages they received. Can we have some too please?!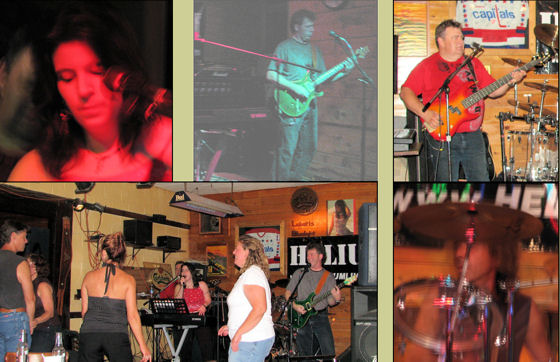 We'd like to say thank you once again to staff: Johnny K., Ruth, Amanda, Jody and George for an exceptional greeting, and Keith, Shane, Jeff, Rick & Sue, Chantal, Marie and the pretty little blond Crazy Train lady for adding some significance to our evening.
HELIUM has been rescheduled at Atkinson's for October 19th. Indeed, we'll mingle again soon. Until then....
---
PRIVATE PARTY - Alexandria - August 18, 2007
---
We had ourselves another grand ol' time in the great outdoors this past Saturday. You could describe this private party as "unique". The stage was set up in some kind of log cabin/tree house thing, which made things a little awkward but fun. The open field allowed our sound to linger a long way. Very neat!
It became rather cool throughout the evening, enough for us to tolerate our jackets. The glowing bomb fire allowed all guests to keep warm. It was nice to see them all huddled together. Would have been cool to have had some marshmallows or something while they were at it!
We'd like to thank Jake Massey for inviting us to play his party. We believe he had himself a ball figuring out his new sound board. He's thinking of making this an annual event. Perhaps HELIUM will drop by again next year. Let us know Jake!
More thanks to JF, Melissa, Corrine, Cody, Mike and the rest of the gang for adding some pep to the evening in their own way. Mike, we believe you forgot your boxers on stage!!! Great laughs! Take care gang.
---
PRIVATE PARTY - Carp - August 11, 2007
---
HELIUM was geared up to play another outdoor event this fine Saturday. The weather was very permitting. This party had various purposes; three birthdays, one wedding anniversary and the conclusion to an afternoon Car Rally.
Our set-up was absolutely awesome as we had the whole backyard deck to ourselves…well except for the occasional dog. We were quite impressed with the piece of land in which this event was held. The home owner totally scored on this one! Basically, this was an all-ages party. HELIUM ensured on having some Green Day and Evanescence to keep the young children content. Kids matter too! We brought in a good mix as we always try to do. No troubles. Everyone had the fun they deserved.
The meal was splendid! There were many different kinds of salads, some hotdogs, veggie platters and lots of cake. What got us was the beef. After roasting all day long on the rack, you can bet it was out of this world! It's totally worth fussing about. We'd be shocked if there had been any leftovers.
HELIUM thanks Chris and Nathalie Love for making us part of this fabulous occasion. We appreciate the great hospitality. It's always a treat to have a change of scene from the bars. Again, we wish a Happy B-Day to Chris, Ken and Pinner, as well as a Happy Anniversary to James and Connie. We should also mention and thank our happy adolescent helper Alicia. She kept us entertained on her end and was quite good at getting us beverages and any tool we needed. Sweet girl and always eager to help. Merci beaucoup chick pea.
We might be lucky enough to hit this location again for Halloween. Yep, there's another party in the making. Perhaps we'll see the gang again in October. Thanks a whole lot people and enjoy the rest of your summer
---
BAR ÉLÉGANCE - Buckingham - les 3-4 août 2007
---
| | | |
| --- | --- | --- |
| | Cette fin de semaine, en particulier, nous était tout à fait spéciale puisqu'on célébrait les anniversaires de 2 membres du groupe. Brigitte, le vendredi, et Bob le samedi. | |
L'Elégance n'avait aucune objection au 'partys' prévus!

C'était, en effet, une fin de semaine chargée. Plusieurs ami(es) se sont présentés, et certains par surprise. Notre chère partenaire en crime, Linda, est descendue de Montréal, s'assurant de ne pas manquer l'action. Elle nous a donné un bon coup de main avec le système de son et pour la récompenser, on a insisté qu'elle monte sur scène avec nous pour en chanter quelques unes. Très bonne job sur Maudit Bordel et Just Like Jesse James. Merci encore la grande ! On s'amuse tout le temps en ta présence.
En plus de cela, notre chère amie, Patti, nous a présenté au grand Gaétan. Ce gars était tout à fait 'primé' avec sa guitare en mains pour nous jouer un peu de Blues et une version aggressive de Rocky Mountain Way. Les gars ont apprécié l'accompagner et le laisser faire son affaire. Un grand 'fun' !
Les 'clics' de Brigitte et Bob se sont prouvés assez nombreux et 'loud' toute la fin de semaine. Ils aimeraient tous les deux remercier Martin, Pat, Frank Moose et France, Hélène et Luc, Bruce, Wendy et Marc du groupe Goodwill ainsi que Céline, Véronique, Paul, Norm, Luc #2, Nick, Martine, Johnny, Jo, Francine, Lucie et André-Anne. Croyez que vous avez tous mis un sourire à leur visage. Ils n'oublieront jamais ces merveilleuses soirées.
Un autre merci au grand chum de Bob, Robert D., d'avoir partagé ses Calines de Blues et sa version de Smoke on the Water sur scène avec nous. Ca fait longtemps qu'on l'achale de se défouler avec HELIUM. On a senti son 'rush' et sommes fiers.
Un gros merci
à Véronique Larose (Nika) pour la contribution de ses photos (voir
l'album photo
).
| | |
| --- | --- |
| | |
Le Bar Elégance nous a prouvé chaleureux une deuxième fois et nous aimeriont souhaiter la clientèle et staff : Julie, Alain, Stéphanie, Véro, Hélène, Big Den, Boucer Pat ainsi que DJ Louis un excellent été et leur remercier de nouveau. On adore travailler avec vous et sommes anxieux de vous revoir très bientôt. A la prochaine !
---
BOOMERS SPORTS BAR - Prescott- July 27-28, 2007
---

Our 2nd visit to Boomers was long awaited. Our "welcome back" was ever so special. The staff had prepared some advertisement by creating HELIUM posters of their own. This is the first time a venue has done this kind of thing for us. We absolutely loved how the posters looked, that we grabbed ourselves a bunch to keep as souvenirs. Nice work Donna!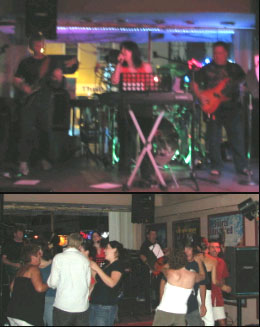 We had a good ol' time rockin' away on the marvelous stage as we usually do. Our rock classic selections kept the people moving.
We especially liked keeping up with Brian and Rick's song requests all night long on Saturday. They kept shouting them out, and we kept fulfilling! It was practically a dare game.
We met a lot of interesting people and enjoyed catching up with some faces whom we had met the last time. It's nice to be remembered.
Big thanks to Gary and Heather, Shelby, Tammy, Kathleen, B-day girl Joanne, Brazeau, Jimmy (the pest), Johnny, Jo and the Shakespeare Acting Team for coming out and partying in the heat with us. Of course, we all had a well-deserved good time.
HELIUM also enjoyed chatting with the staff. Thanks to Tracy, Mélanie, Chris and Laurie for expressing how happy they were to see us back. We liked the food and appreciate their courtesy.
Boomers is a fun, no bullsh*t, kinda place. We'll gladly go back anytime!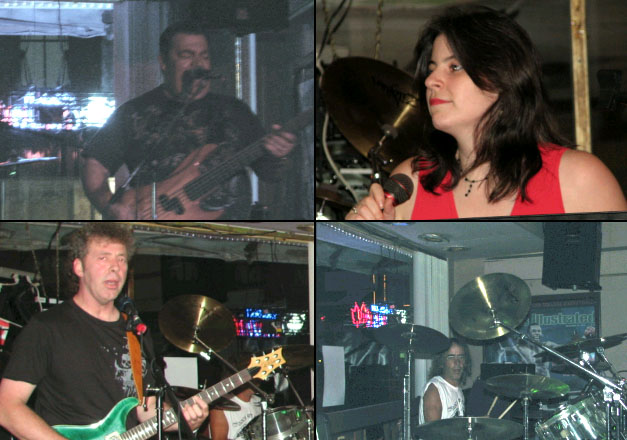 ---
O'SHACK VILLAGE - Clarence Creek - July 21, 2007
---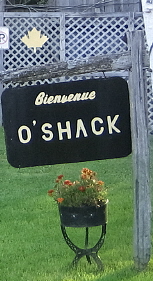 Helium s'est produit au festival de O'Shack à Clarence Creek samedi dernier et quel plaisir ce fut d'y être invité. Quel endoit magnifique ce village.
La température était de notre côté en plus de jouer à l'extérieur dans un endroit féérique de ce village enchanteur. Ce fut une soirée exceptionnelle avec un peu plus de 300 personnes qui y ont participé. Un excellent party croyez-moi.
Nous tenons à remercier Fern et Lisa de nous avoir invité à faire la musique. Un merci spécial à Sonny et Richard pour leur aide ainsi qu'aux autres membes du "staff".
Salutations et un remerciement spécial à Paul Lauzon, Céline et aux autres personnes qui ont pris des photos. Un grand merci à Johnnyman, le cinquième membre de Helium, pour sa contribution continuelle et son support exceptionel envers la band, sans lui on se sentirait assez nu par moment.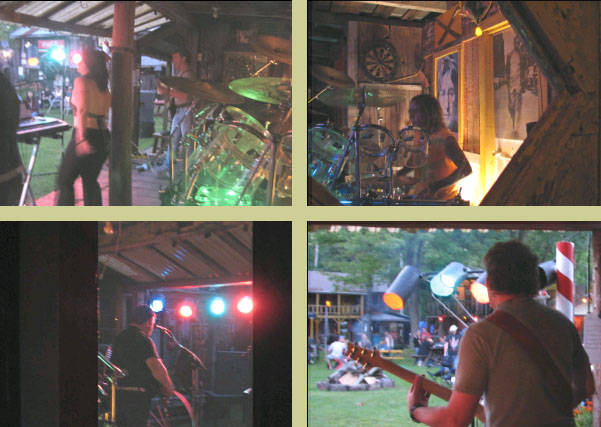 Salut à nos ami(e)s André Lauzon ainsi que la gang en cuir, Joanna la Gazins..., Martin, Eric Rico S., Pat, Schnupp, Luc G, Eric Q, Mike et Tina, Mario et Annik, Julie, Chantale, Paul, Angie (celle qui a dansé sur la scène avec nous) ainsi qu'à tous les "bikers" pour leurs grognements de moto. C'était assez exceptionnel.
Remerciements à Mark, Lisa, Rob et Cheryl pour leur bons commentaires envers le groupe.
---
JP Lauzon voudrait remercier ses 2 frères d'avoir été là, surtout André que je ne vois pas souvent, ça m'a fait plaisir de jouer pour toi.... merci Claude Schnupp, c'était trippant te t'avoir vu et jazer avec toi, ta Blonde Joanne aussi... merci aux frères Lemieux, ça été le fun vous voir aussi et ALAIN merci pour ta bière à la fin du show, ta Bleu était bonne et frette !!! Et un Gros Merci Spécial à Pete (W.S.) Chenier de Rockland pour les 2 pics de guitares !!! :-)
---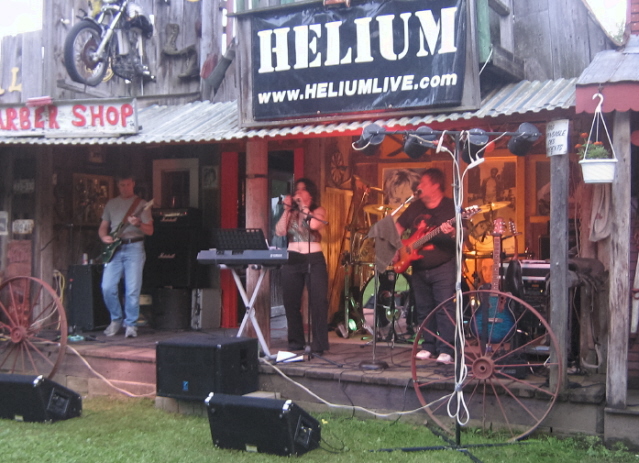 Le party fut vraiment un succès et Lisa et Fern nous ont demandé de jouer de nouveau pour leur deuxième festival qui aura lieu samedi le 22 septembre 2007.
Au plaisir de vous y voir tous et toutes.
---
ATLANTIC HOTEL - Alexandria - July 20, 2007
---
Things seem to be quieter at the Atlantic during the summer. This Friday's show was tame but still rockin'.
We were very content to have our good friends Brent and Chloe drop by for their HELIUM fix. Of course, they didn't want to party alone, so they invited some friends to which we were introduced.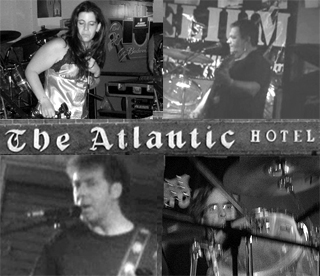 Thanks again to Nancy, Julie, Dan and Stephane for tagging along. It was very nice meeting you and please be reassured that you each brought an extra edge to our evening. Others who contributed to this "edge" are Simon, Lauzon and the gang.
What a great bunch of guys. Cheers!
The staff exercised courtesy as they usually do. We always enjoy catching up with them. After 2 years of performing at the Atlantic, HELIUM considers them all as friends. Hellos and thanks again to Richard, Bridget, Myriam, Meagan and Max.
We hope that everyone is enjoying their summer. HELIUM awaits their next invitation to Alexandria. Can't wait to go back.
---
PRIVATE GOLF PARTY - Cardinal - July 14, 2007
---

HELIUM performed for a full house of golfers this past Saturday. Cardinal celebrated its 5th annual Golf Tournament. We were expecting to see lots of plaid pants and white hats, but even the folks of this small village know how to keep up with style.
As we arrived, the aroma of BBQ'd steak lingered in the air. Mmm!!! A mouth-watering tease! The music began after the succulent meal and prize give-aways. Some of these prizes were absolutely hilarious. Congrats to all of the winners. More congrats to Bernie's team for achieving the highest score. Golf pros indeed!
HELIUM rocked out once again and even had the pleasure of welcoming 2 staff members up on stage with us. Paul made his regular appearance, while Caroline delivered a fantastic Rocky Mountain Way. Both were such a blast all evening long.
It was a wonderful party and we applaud all of those involved in its organization. We also wanna take advantage and say one more hello to Mary Lou, Smiley Rob, Joanne, Jen, Missy, Bear, Glen, Green Jesus, lovely Patti, crazy dancing dude and the girls, and the rest of the regulars we might have missed. We tip our hats to singing Steve as well, for jamming some country tunes on his acoustic guitar after the show. This party would not have been the same without each and every one of you. What a good time! Thanks folks…let's do this again next year.
---
HUXLEY'S ON MAIN - Renfrew - June 22-23, 2007
---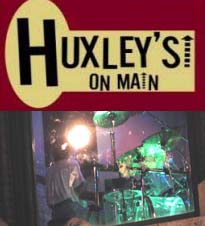 HELIUM was priviledged to play its first venue in Renfrew this past weekend. We were introduced to
Huxley's on Main
.
The lovely owner, Tina, along with her excellent staff: Jazmin, Shawna, Steve Miller (his real name) and James ensured on a pleasant welcome. How we appreciate that!
We really enjoyed the stage set-up by the window as well as the awesome resonnance for sound within the establishment. HELIUM felt right at home. Huxley's patrons definitely showed their appreciation to us. They're truly a wild and active bunch.
We especially applaud Tabatha, Terri-Lynn and the girls for keeping up a dance marathon on both nights. We kept them too busy for them to even sit down.
Some of our friends and followers from Ottawa were able to make it in as well. Salutes to Dave, Judy, Claude, Wayne and Gaye. HELIUM loyals never cease to impress us! It was great to have them travel the hour and some minutes to come see us.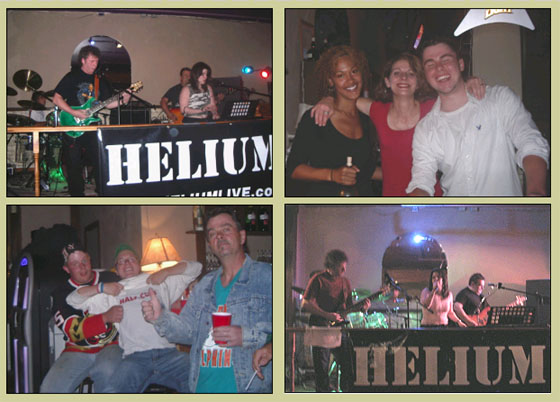 We also got a kick from the boys of the "Half Cut" band who treated our show like we were playing a stadium. Waving their fists in the air with some occasional devil horn signs. HELIUM tripped on them as much as they tripped on us. They also gave us the loudest "encore" request ever! Rock n' roll ain't noise pollution to these guys for sure!
Other significant people we should mention for making our weekend even better are Lisa, Gerald, Earl, Ron and Stephanie. Thanks again for such strong support and encouragement. We enjoyed your company.
Yep! A wonderful weekender gig! HELIUM intends on returning to this location in the near future. Hopefully, the new friends we made will be there next time. It'd be a shame if we couldn't see them again. Take care gang...we'll see you soon.
---
FINNIGAN'S PUB - Ottawa - June 15, 2007
---
O.K…so we thought last weekend's gig was muggy and unbearable. No way! Not comparable to what we experienced this time! For those who know Finnigan's Pub, they are aware of its interior design and capacity to retain humidity and heat (especially in the loft). They'd also be aware of the many stairs necessary to ascend while unloading. Not always an easy task! Nevertheless, it remains one of our favorite venues.

We think Brigitte overheated herself again! If it hadn't been for Bob's lucky towel and lots of water, Bri would have most likely blinded herself with the drips of her own sweat or certainly dehydrated. JP's guitar shone from condensation, making it extra slippery for him to glide from fret to fret. No issue for him though. Flo was his mellow self as usual! These are familiar things to any musician, but I tell ya…it really hit us TENFOLD! HELIUM pulled it off though…not a prob!
Special thanks to Annick for volunteering to do some background vocal work with us on Tracy Chapman. Sweet chick!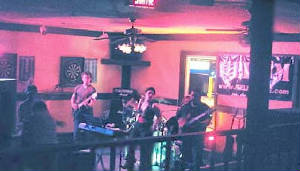 Some more thanks go out to our friends Ben, Cassidy, Paul, Marty, Jessie, Glen, Denis, Collette, Marc L., Schnupp, Ken and Nancy, Jo and Joelle, Francine, Stacey and Roundcat, James, Newfie Glen, Christine, Big Dave, Johnnyman, Scott and Nat. HELIUM definitely has the best of friends!
We applaud and send some more congrats out to André and Rachelle for announcing their wedding date scheduled in less than a month. Best of luck and happiness to the nice couple.
The Pub staff continues to do an awesome job. We love them all! Can't help it! With all that said…it was another great time. We'll probably visit Finn's again sometime in the Fall. Keep watching for us and take care 'til then.
---
PHATTY KATS - Cornwall - June 9, 2007
---
The unloading of our van was a sticky process indeed. Luckily the Phatty Kats is equipped with good ol' A/C and the staff is consistent at keeping us hydrated. Huge thanks to Lisa, Tammy and Dennis for them refreshments. Being paired up to work with DJ Phatty is also a big plus. We coordinate our things well together and each respect what he gives of himself to his people. Thumbs up dude!
How joyful were we to see our good loyal friends Brent and Chloe drive in from Alexandria to party with us. Better yet…they brought us a birthday party. Happy birthday to Bernadine once again. HELIUM admires how she got up on the dance floor despite having a crutch in hand. Hope she heals quickly. More hellos and thanks to her gang Blane, Tonia and Brenda as well. Such party enthusiasts!
Also, we mustn't forget our 2nd birthday girl, Andrea. She kept busy dancing all night and keeping her distance from the mean "butt grabber" outside. LOL She had fun and we're glad we could help.

Some last nods to Amy, Chris, Sasha and friends for giving us awesome feedback on our song selections. It's good to see that you can never go wrong with a Metal hit from time to time. Oh, and, same goes for Jeffrey. We hope that our rendition of your song request was to your liking.
Rest assure, HELIUM had another great evening! 'Til next time.
---
PARTY PRIVÉ - Gatineau - 2 juin, 2007
---
Quel beau party privé. Au moins 100 personnes étaient présentes pour célébrer les 50 ans d'une des Sistas : Sylvie.
Le thème de ce party était la musique. On a eu droit à une interprétation d'une chanson de Neil Young Comes a Time ainsi que le fameux Hôtel California avec 7 guitaristes, un bongiste, un pianiste et un chanteur.
Par la suite un groupe de 4 jeunes Gatinois "Les Voyous" a réchauffé la salle en interprétant 9 chansons francophones. Ce groupe n'était composé que depuis seulement 3 mois et a réussi à soulever la foule. Une très belle chimie ressortait du groupe. Nous pressentons que ce groupe ira très loin.
HELIUM a enfin clôturé la soirée en faisant danser la foule au son de notre musique rock. Sébastien, le batteur du groupe Les Voyous s'est joint à HELIUM en accompagnant à la guitare, notre lead J-P avec 4 chansons qu'il avait choisies. Un autre jeune talentueux. La relève se prépare et pour le mieux.
La foule a été des plus extraordinaire, l'ambiance était de la fête. Merci à tous pour la belle réception et l'accueil chaleureux à notre groupe.
Un merci très spécial aux personnes impliquées dans la préparation de ce superbe party dont : Daniel, l'instigateur, Céline, Véronique, Irène et Sébastien pour tous les petits secrets en arrière scène, ainsi qu'à J.P. pour la coordination musicale. On espère être invité pour le 60e.
Joyeux anniversaire chère Sylvie!
---
AUBERGE SUR LE LAC - St. Pierre de Wakefield - May 25-26, 2007
---
Notre première visite à l'Auberge sur le Lac était toute une expérience. Nous adorons faire le "party" du coté Québecois .Les gens semblent plus "wild" et quoi de mieux que de jouer avec la vue du lac à nos cotés.
Nous étions sensé jouer seulement le vendredi soir, mais suite à plusieurs demandes des gens présents, le propriétaire ne pouvais ignorer les souhaits de sa clientèle et a insisté que l'on complète la fin de semaine parmi eux.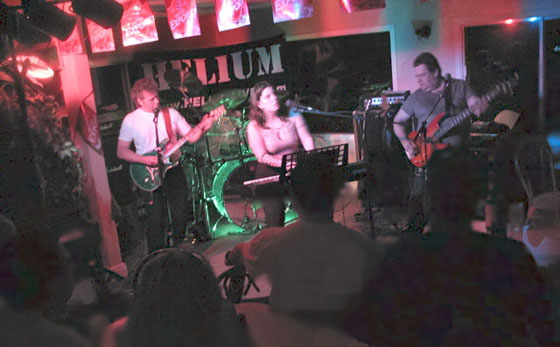 Notre répertoire du vendredi était assez agressif. On l'a tous senti ! Il faisait tellement chaud, on croyait que tout le monde avait fièvre. Ouais, la fièvre du "Rock"! Même la nature s'est permise de se mettre à l'aise…Brigitte s'est battue avec trois
Junebugs
gigantesques. Pas grave… les gens on trouvé cela assez comique.
Un gros merci a J.C. et John du groupe Random ainsi que leur conjointe d'avoir passé la soirée avec nous. Aussi à nos ami(e)s Liette, Patti, André, Ben, Remi, Dan du groupe Alloid, Pierrette et Jean-Paul, Justine, Nathalie, Hélène, Johnny, Joe, Terry, Marie-Eve et Jim.
Le samedi fut une touche plus calme, malgré que la danse était aussi active que la soirée précédente. HELIUM était honoré d'être parmi ceux et celles qui célébraient l'anniversaire de George ainsi que d'annoncer un anniversaire de mariage de 17 ans. Félicitations, encore une fois, à Andy et Joanne.
D'autres gros merci a nos ami(e)s Denise, Marc, Bob, Serge, Joanne, Martine, Sandra, Martin, Pat, etc. La liste ne finit plus. Il ne faut également ne pas oublier le personnel de l'Auberge: Ron, Diane et Louise. Ayez confiance que HELIUM a vraiment savouré son séjour à votre établissement et espère revenir dans un proche futur. On espère y retourner avant que l'été se termine. A la prochaine et d'ici la, prenez soin de vous !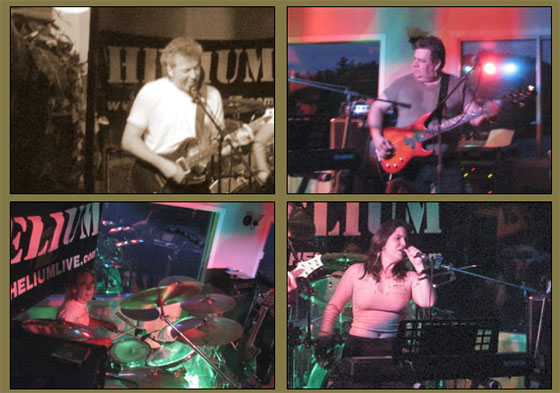 ---
RED DOOR LOUNGE - Moose Creek - May 19, 2007
---
All the excitement over The Sens eliminating Buffalo and moving forward into the Stanley Cup Finals reigned in the air all evening long. You could even see random people swaying away their Sens flags on the highways. Very pleasant to see. We're all so proud.
HELIUM is glad that the game set the mood right and prepared our guests in consequence for a rock party. We enjoyed watching Helen and Joe shake their stuff on the dance floor and for initiating others to come up. No one has hippy-styled danced for us in a long time. So cool!

John made us laugh with his HE-LI-UM chant again but we do feel bad that his wife Louise couldn't come out this time. We'll catch up with her next time. We also appreciated how Mel, Gay and Wayne made us part of their long weekend. Right on that you caught the entire show.

Salutes to the staff once again: Bryan, Sharon, Leah and Lorraina. Please trust that HELIUM had themselves another great time and we hope to see you again…in the Fall perhaps. Keep in touch!