---
FINNIGAN'S PUB - Ottawa - December 31, 2006
---
HELIUM was very fortunate to ring in the New Year with friends and family in our most frequent venue of 2006. What better than to toast with the people you love and respect.
Finnigan's Pub has given HELIUM an awesome year and we ensured that the goers got the party that they deserved. We'd like to especially thank Owner, Drew Dobson for making it all happen. He too, made sure his guests were content. It was an intimate party for everyone. A great lunch, fun hats, sparkling champagne followed by a traditional acoustic style Auld Lang Syne. We really enjoyed ourselves and are convinced that 2007 will treat us just as well.
Big thanks to those who ventured out to join us in such dismal weather conditions. Packing up at the end of the evening was quite the adventure! Slushy freezing rain indeed.
Hugs and kisses go out to all the Finnigan's Pub loyals who continue to cheer us on (thanks for coming out): Ivan, Cassidy, Dweener, Angie and Jazz, Sonya, Jay and Steve, Joanne, Céline, Johnny, Stacy, Sue and dancing partner (ha), Mike, Roundcat, Freddy and Michelle, Brian and Gerry, Luc and Hélène, Renée, Michel and Christiane, Gail, Stevie and the gang. The list goes on and on………
We also applaud the fabulous service of the working staff. Way to go Tim, Chantal, Paul and Collie. You pulled it off. It might have been a rough night, but you all survived with dignity.
It was well worth it! Have yourselves a wonderful 2007!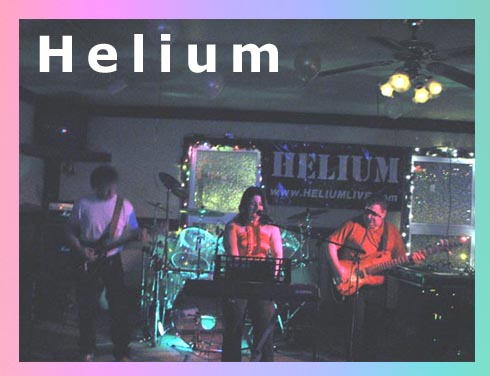 ---
ATLANTIC HOTEL - Alexandria - December 29, 2006
---
The Atlantic Hotel has kept its guests and patrons busy all week long. We were told that it has been a nonstop party since Wednesday or so. HELIUM was really glad to see that our loyals stored some energy just for us…although it did take them longer to get up and dance this time!
We thank Chloe and Brent for initiating the "dance fever" on others.
Nathalie danced away while keeping the beat with a pair of spoons, as Julie borrowed our Brigitte's tambourine.
We totally welcomed their musical accompaniment.
Special shout outs to Angela, Stephanie and Brad for having such enthusiasm with our rock classics selection.
We're glad you enjoyed the show.
Cheers, one more time, also to our good ol' pals Johnny and Jay. We still love the shooters you keep feeding us. Big thanks to the on-duty bar staff: Alisha, Meagan, Loni, Bridget and Jamie.
Oh, and who can forget doorman Chappy.
We often wonder if Chappy gets cold staying close to them entrance doors!
Luckily the warm fireplace is set to keep the bar nice and toasty.
We surely enjoyed it!
HELIUM is scheduled to revisit in the New Year.
See the gang soon!
---
PHATTY KATS - Cornwall - December 15, 2006
---
This Friday was a tad quieter than usual at the Phatty Kats. Perhaps due to the holiday/ shopping season. We still had a magnificent and intimate evening with the excellent bar regulars, guests and staff.
Something as simple as complimentary peanuts added a certain "edge" to the evening's fun. All of those scattered peanut shells made the floor seem carpeted. Some folks enjoyed hearing the crackling as they walked and danced on the shells. Some thought it'd be a good idea to use them as food fight weapons. We should have brought shields! Respectfully... it never got out of hand.
HELIUM would like to say hello and another thank you to DJ's Phatty, Hightower and Kitteh for great song mixing. Nice work guys, and gal! Thumbs up also, to bouncers Roger and Kevin for using cool security measures against them peanut shells. ha ha Big cheers to John, Joe, Marleen and date, Gordie, Brent (of Alexandria), Manager Claude and servers Lisa and Josée too. Dennis, sorry we missed ya! You're all great company.

We also applaud Eillen's work with the making of that nice, red, "Christmasy" stage background. It looks nice and even accentuates our banner!
HELIUM wishes everyone from the Phatty Kats a Merry Chistmas and a Happy New Year! Have a rockin' good time and drink responsibly. We had a good time and we hope to see you again sometime in the new year.
---
ÉLÉGANCE BAR - Buckingham - December 8-9, 2006
---
Ce fut une fin de semaine formidable pour HELIUM. Les gens de Buckingham savent comment faire le "party" et l'accueil a ét
é
très chaleureux.
Les gens se sont montrés très réceptifs à notre sélection de "rock" à laquelle on a ajouté quelques classiques en français. Ils ont tous pris leur tour à danser et ricaner avec nous.
De plus, nous étions très heureux de revoir nos amies "The Sistas" samedi soir . Elles ont réussies à nous trouver et se sont complètement défoulées. Joyeux anniversaire à la jolie Claire encore une fois!
D'autres visages familiers sont venus nous encourager dont; Martine et Simon, Nicole et Réjean, Steve Desroches, Ken et Nancy, Martin, Louise et gang, Bob Daniel, Paul, Bob (M. Disco) Gauthier, Paulo ainsi que Serge et Mireille. Votre entrain et vos encouragements étaient fort sentis et appréciés.

Parmi la foule, on aimerait aussi remercier André, la belle Ginette, Loulou, Martin ainsi que Lesley et sa gang d'amies. Un gros merci à Sylvain pour avoir parti le bal de dansage et pour la ronde de bière.

N'oublions pas le personnel exceptionnel de l' Élégance...Stéphanie, Pat, Keith et notre gérante la jolie Julie (je crois que c'est bien son nom car elle ne s'est jamais présentée n'est-ce pas Julie ? ha ha ha) . Notre DJ favori, Louis Ducharme a opéré sa discothèque avec soin et enthousiasme gardant les gens dans un esprit de fête toute la soirée.

Merci encore à tous...HELIUM s'est amusé au max!!!
---
PENALTY SHOTZ - Cardinal - November 5, 2006
---
Back in Cardinal we were. How we missed visiting the gang of the Penalty Shotz. It was a chilly night but a couple of rounds of shooters with some old friends took care of that in a jif.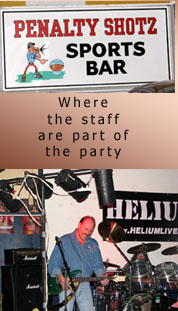 Our evening consisted mostly of jokes and pranks. Watching Flo use a barstool rather than his drum bench all night made things very interesting. Who misplaced his bench this time?
We must also applaud some of the Shotz regulars for pulling a "trailer switch" on us. We were quite stumped to find our trailer mysteriously attached to Bernie's truck. What the #&%$**!!! Those mischievous little monkees sure got us! Lots of laughs. What really threw us off was having Paul (owner) come up and jam on R.E.M. with us. What was he thinking? Wow...look at him go!!! Some of us did not exacly comprehend what we were looking at but it was all good in the end. The man's a riot. We won't forget this one Paul!
Big thanks and shout outs to Mike from the band
Quicksand
and Tina for driving from our neck of the woods to see us.
Other hellos and thanks go out to "Smiley Rob", Kristi, pretty brunette lady, Donnie and manager Joanne. We're glad you spent your Saturday evening with us. It wouldn't have been the same without you.
HELIUM hopes to see you all again very soon.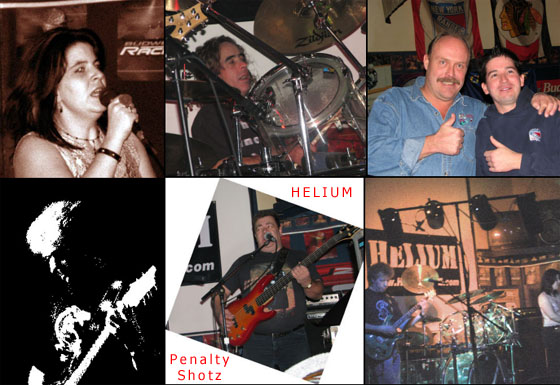 ---
PHATTY KATS - Cornwall - October 20-21, 2006
---
Our weekend in Cornwall was definitely an amusing time. Everything went smoothly except for the unexpected snowfall we encountered on the way. Luckily it melted within hours. Some residents expressed how bummed out they were over the whole thing. "How dare Mother Nature impose snow on us before Halloween!"
HELIUM performed for an exciting crowd on the Friday evening and an even wilder crowd on the Saturday. We were alert and on a mission to keep them folks dancing. Our people displayed high energy all weekend long and assured us that they enjoyed every minute of the party.
We met a lot of new people and scored some new HELIUM fans. As per their request, Karey and "Bouncer Roger" each received a pair of Flo's drumsticks. Why not autograph them while we're at it! ha ha Others who contributed to such a special weekend were Cindy and buddy Mario from Montréal, Tammy and Nat "The Brat", Sylvie-Anne, Pierre, Adèle and Shawn, Mike and "crazy Quebecer ladies".
HELIUM also thanks Jay, Al and Laurie, as well as Jordan for great laughs and for keeping their table loud and rockin'. Oh…and thanks for retrieving Brigitte's lost earring. The shooters were tasty weren't they?!
The Phatty Kats staff: Claude, Lisa, Josée and DJ Hightower worked good shifts and were as courteous as ever. We also hope that Phatty Kats owner, Denis was able to capture some nice photo shots of the marvelous weekend.
HELIUM eagerly awaits their return date of December 15th.

See you then guys and gals!
---
ATLANTIC HOTEL- Alexandria - October 13, 2006
---
An awesome turn out for this fine Friday the 13th. None of us encountered any bad luck. Flo made it a point to 'knock on wood" beforehand!

The Atlantic gave another nice welcome back to the band. There were many rockers among us who were determined to party hard. As of the 2nd song of the evening, folks were up and dancing. HELIUM was determined to keep the ball rolling all night. It wasn't a difficult task and the dancing never ceased.
On stage, looking out into the room, it is always so amusing to watch the dancers. People display great body language to the feel of the rock music. Those who stood out the most were Joanne, George, Michelle Ann, Rosco, Naiomi, Chloe and Brent, Marc (guidoune), Lianne and Tina. Mélanie and Matt preferred to rock out near the pool tables. We had a great party. It almost got out of hand when Naiomi and pal came aboard the Crazy Train. We weren't sure if there'd be enough seats...nor room up there with us. We all survived!!!
Happy Birthday, once again, to Randy and Kelly. It was loud in their corner, I tell ya! Lots of fun!
HELIUM thanks all of the Atlantic's on-duty staff: Richard, Bridget, Myriam, Sheila, Josée and doorman Randy. We tried to cash in our beer tokens as best as we could. Once again, thanks gang! Very much appreciated.
Another fun rockin' time. We're looking forward to going back on December 29th. 'Til then.
---
RIDEAU TAVERN - Smiths Falls - October 7, 2006
---
Taking a little trip out to Smiths Falls added a nice touch to our weekend. Not only did we have a fabulous time, but none of us had visited "The Rideau" since it undergone changes.
We noticed a few extra TV screens, a Saturday "Ladies Night", Steve the new DJ, etc. What didn't change are the many friendly faces we recognized. After a year, it was pretty cool to be reacquainted with Gil and his gal, Karen, Brenda, Nancy, Craig, Ron and staff Leah and Sherry. Thanks for remembering our previous performances and for insisting that we come back. HELIUM loves rockin' with you.
Big thanks to Marleen and Rebecca for expressing their appreciation to the band, and thanks again to Tammy, Gil, Karen, Brenda and Nancy for signing our Guestbook They are swell and we're glad they had a good time.
Call on HELIUM again ya hear!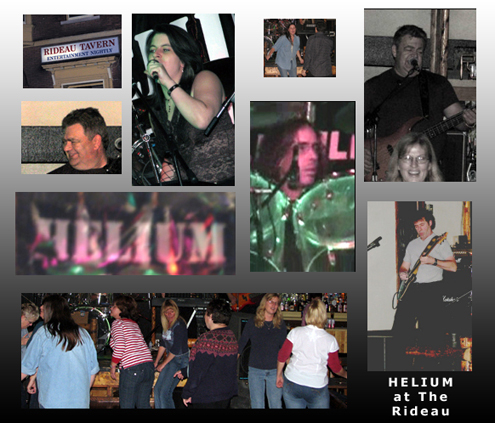 ---
THE GLUE POT PUB - Ottawa - October 6, 2006
---
Another fantastic evening of rock. The
Glue Pot Pub
is always such a cozy little place. You can always expect a positive and receptive audience. HELIUM did not disappoint.
J.P. was excited to bring in his newest guitar. What a piece of work...and it's green too! It definetly suits him well. Flo seemed a little grumpy as he didn't get to eat during pre-show. Nevertheless, he never ran out of fuel. Brigitte exercised her right to rock. People wonder where she finds her energy. So do we sometimes!!!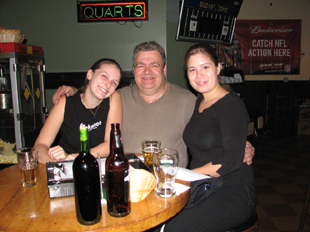 Bob was in a strange, funny mood as usual. Fridays nights treat him well and he always delivers a good show. Even the lady bar staff, Shawlee and Erin, fed on his smooth vibrance.
HELIUM thanks Rick, Ben, Bill, Cynthia, Roger and pub owner Sonia for such great company and rockin' support.
Big thanks to Doug, also, for helping us out with our gear. The guy can haul anything...scary!!!
Other thanks and hellos go out to Johnny, Hélène, Alice and Paul, Céline, Jim and Anne. Let's party again soon. Happy Thanksgiving to all!!!
---
FINNIGAN'S PUB - Ottawa - September 22, 2006
---