---
CENTRAL HOTEL -Moose Creek - April 28, 2007
---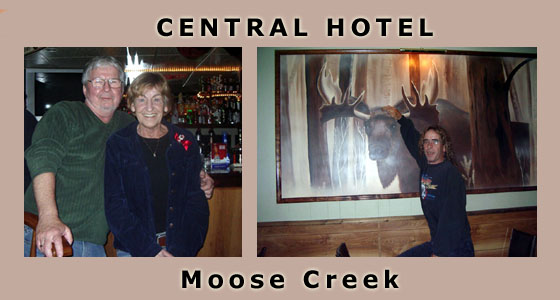 What a rainy and wet weekend! It's difficult to find the motivation, at times, to get things rolling when everything is grey. Our spirits weren't dampened after all due to the anticipation of being introduced to a new venue. The Central Hotel proved itself to be a fun and bouncing spot.
Even with the competition of them hockey playoffs, the patrons multitasked with their viewing capacities. One eye on the game and one ear on the band! Who can compete with a good ol' hockey game?! Especially with the stress of the playoffs. Unfortunately the Senators lost Game 2 against The Devils, but luckily everyone kept their pep.
Throughout the evening we welcomed 2 people aboard the stage with us. Thanks to Louise for acting as back-up vocalist during Another Brick in the Wall and Warren for taking the lead on Knockin' On Heaven's Door. Fun times indeed! We'll do it again someday. We also enjoyed watching Nathalie and the girls act out The Hippy Hippy Shake. There was a whole lotta shakin' going on! Looking good girls!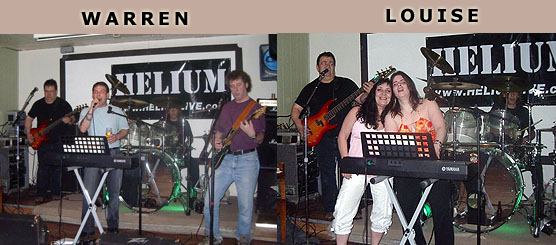 HELIUM also wishes Lorena & Troy a wonderful wedding. They have created themselves a small website in honor of their love. Check it out at: www.lorena-tony.com We also send some more nods out to Mel, Charles, Shelley, Tim and his gang. Such enthusiasm cannot go unnoticed. Thanks again for giving this party an extra "edge".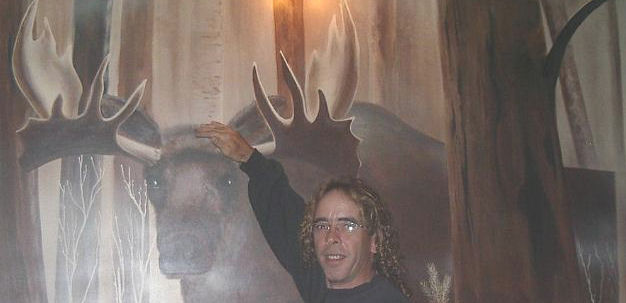 Lastly, huge thanks and hugs to Bryan, Sharon and Rachel for giving us a heck of a greeting and exercising great hospitality. HELIUM enjoyed this Saturday night and won't forget it. See you again in the near future.
---
ATLANTIC HOTEL -Alexandria - April 27, 2007
---
The Atlantic was unusually quiet this Friday. What a shocker! Now that the warm weather is here, one would assume that it's time to come out from hibernation. All and all, it was more of toe tapping and beer drinking crowd.
Regardless, HELIUM had lots of fun and still broke a sweat. Those stage lights are so damn hot, I tell ya. When the instruments start to sweat more than you do, one can only wonder!
Plenty of new staff to meet this summer at the Atlantic! Hello and thanks again to new waitresses Mélanie, Meagan, Myriam and Doorman Maxime. It was a pleasure meeting you and we look forward on building an excellent working relationship with you as we have with Richard, Jamie and Bridget. The meals and cocktails were awesome as usual. Again, HELIUM thanks you.
Some more thanks to patrons France and Jimmy. Every time we see those two, they're always so enthusiastic and jolly. You guys should have stuck around Tim Horton's with us after the show! Where'd you go?! We also hope that Monique's visitors from Edmonton enjoyed their evening with us and we wish them a safe trip back to Alberta. Nice meeting you. Thanks for getting up to dance.
HELIUM is scheduled to reappear at the Atlantic Hotel in July. We insist on a good turn-up, so bring all of your friends! Til then!
---
PLAYER'S SPORTS BAR -Smiths Fall - April 21, 2007
---
Our second visit to the Player's Sports Bar was truly an eventful one. As we arrived, we were pleasantly surprised to walk in to a full house. Indeed, the Wednesday Night Dart Teams were having their annual awards ceremony. HELIUM was thrilled to be part of the occasion and we're glad everyone stuck around for the post rock party.
Our friends Brenda, Karen, Sonya, Christel and Dean came in to say hello again.
They have been HELIUM loyals for almost 3 years and never fail to pay us a visit when we visit Smiths Falls. Always a pleasure to hang with you all! Thanks guys!
We had a couple of jammers in the house with us this night as well… Thumbs up and salutations to Rod and John of The Roadies Duo Act for blowing off some steam with us on stage.
A Whole Lotta Love and Tush in these guys indeed! It's great to wing any song with absolute naturals! Hope to see you guys again.
HELIUM wants to especially thank Miss Cynthia for turning her evening into a photography shift. How cool to multitask like she did! Awesome work girl! Perhaps we should hire her full-time.
We also want to thank Craig (Erectile Dysfunction Conversationalist) and Geoff for giving us great laughs and cheering us on all night. Other rockers who added significance to our evening are Joel, Julie, Chantal, Donna, Katrina, Tracy, Grant, Abib, Barney the tambourine man, hyper dancing chick and our lovely crazy Krista. How rowdy were they? Ha ha…Much!!!
What can we say…it was a wonderful night!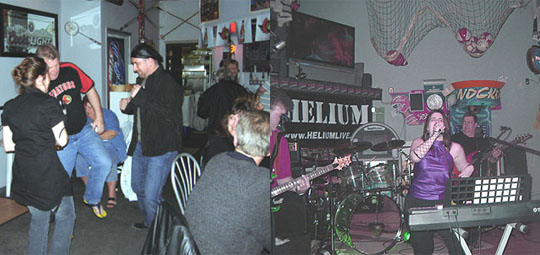 Huge thanks, once again, to the Player's Sports Bar staff: Scott, Sherry and Rebecca (who, luckily had herself the night off). Nice seeing you again. Your courtesy will not be forgotten. Invite us back soon, ya hear?
Photos courtesy of Cynthia V. and Hélene H.
Photo Album
---
PENALTY SHOTZ - Cardinal - April 7, 2007
---
In spite of certain mishaps during the outset of the evening, HELIUM can safely say that we had another grand ol' time after all. To make a long story short ... we are in serious need of a new trailer! With a worn out wheel bearing and a sense of being stranded, we are proud to say that we overcame this horrible set back and went on to fulfill our job as pros. Phew!
Staff Paul, Joanne, Bernie, Missy and the rest of the gang of the Penalty Shotz, anxiously awaited our arrival. How we missed them.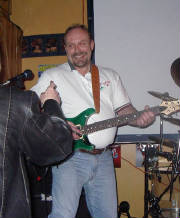 We had ourselves the usual party and met even more new friends. Big hellos and hugs to Mary Lou, Bonnie, Helen, Amanda, Jennifer, Smiley Rob, Audrey, Sarah, Darren, Bear and Bobby.
Paul did his trademark air guitar performance with us again and succeeded with dignity. A well deserved standing ovation, I say! Big cheers man!
Most of the hypeness of the evening, we believe, had a lot to do with the preceding Montréal/Toronto game. With many Maple Leafs fans in the house, you can bet that their victory was well met. Although, still many Habs fans as well, everyone partied in harmony.
We always enjoy our time in Cardinal and encourage close neighbors to visit this location. You're guaranteed an honest, fun good time! See you soon folks.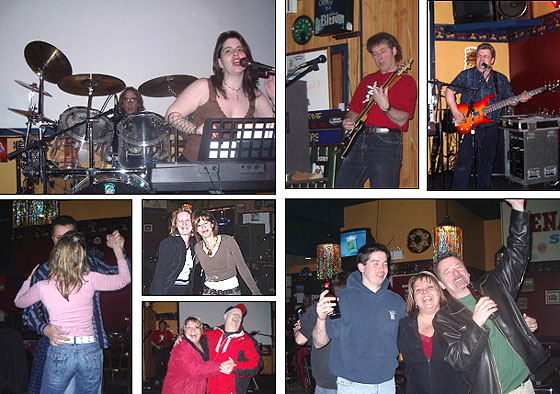 ---
FINNIGAN'S PUB - Ottawa- March 23, 2007
---
An astounding turnout at the pub this fine Friday evening! HELIUM was absolutely moved and pleased to have so many friends come out and join us for another intense rock fix. Perhaps the warmer weather motivated the adventurers. It is strange how people whom you haven't seen for over 10 years all seem to show up at once, in one special evening, making it memorable for more years to come. What better setting to have such a gathering than at the Finnigan's Pub loft!
HELIUM had the pleasure of having the company of musical acquaintances such as: Jay and Joel of the Money Shot band, Pete and Mike of Quicksand and Melody of the Black Cherry band.
It's nice to relate with fellow musicians in a party atmosphere like we had. They definitely understand what the performing fuss is all about. Their support is always appreciated.
As always, we insist on listing our honorable mentions of the evening.
Huge thanks and hugs go out to Cassidy, Dweener, Collette, Tina, Mario, Annick, Michelle, newfie Glen, Lise, Marc L., Amanda, Mandy, Cherry and Al, Marty, Frank, Ken and Nancy, Mike and Colleen, Roach, Sonny, Lisa of the O'Shack, Schnupp, Dan M., Ben, Wabbit, Sylvain, Steph, Nancy, Nikki, Freedom, Kim, Sean, Jessica, Frank R., Danny and Joey.
Unfortunately, we do not remember the name of the guy who got us the sambuca shots, but he is worth mentioning too!
The staff members are forever consistent. Thanks a lot to Drew, Tim, Chantal, Jay, Paul, Mike and Collie for having us again. Our evenings working with you are always a blast! Our summertime show should be as promising. Can't wait to see you all again. 'Til then!
---
BOOMER' S SPORTS BAR - Prescott- March 9-10, 2007
---
HELIUM delivered another intense weekend of rock. We were well received at Boomer's Sports Bar and enjoyed the company of new and interesting people. A nice change of scene altogether! Brigitte had an uneasy and overwhelming sense of déjà-vu all weekend long. Flo later confirmed with her that they had both played this venue in the past with a different project. Couldn't help but chuckle over this. How could she forget?!
The Friday night crowd was little rowdier and bouncier than the Saturday. We appreciated how Heather, Ashley, Kristen and Mallory accepted our invitation to abandon their cozy booth and become more accessible to us. We also loved how interactive they were. Because of the shortage of men in the bar that night, these lovely ladies had to sway to our ballads amongst themselves. We didn't mind!
On Saturday, we were very lucky to have Kerri volunteer to take some live pics. How gracious of her! Kerri was also seated with Frank the Tank and the loud cheerful gang from the center table. They gave us a rush by repeatedly chanting "HE-LI-UM, HE-LI-UM" halfway through our teardown. Kinda funny, actually!
| | |
| --- | --- |
| | |
HELIUM wants to send some more hellos and thanks out to Tina, Earl & Cindy, wild Jessica, Rick, Michelle & Darryl, Jamie, Mike and Beth. All of you made our weekend just that much worthwhile. Oh and we mustn't forget our lively Patti. We're glad she remembered us from Cardinal and that she is still head banging to our rendition of The Cult. Lotsa love girl and all the best!
Last but not least…the staff. Thanks to Tracey, Kristi, Lyndsey and Chris for a wonderful welcome. HELIUM is pleased to have established a new working relationship. Hoping to see you all again in the near future. Cheers!
Photos courtesy of Hélene H.
---
PLAYER' S SPORTS BAR - Smiths Falls - March 2, 2007
---
It seems that Mother Nature really likes toying with us. She has been quite nasty to us, or so it seems, on our last few trips. The wicked storm which hit Ottawa and its surrounding regions on Friday did not make our traveling plans out to Smiths Falls very promising. We were astounded to see that nature actually gave us a break near departure time. It cleared near 6 p.m.
HELIUM was welcomed to the Player's Sports Bar in Smiths Falls. It was our first visit to this cozy little pub. The staff; Scott, Rebecca and Rob were absolutely splendid and awesomely friendly. Very cool to mingle with new colleagues.
Our good friends Brenda, Karen, Nancy, Sonya and Christa also decided to pop in for a surprise visit. How great to see you! It was cool to see you shake your stuff and we're glad you had a good time. We always do don't we?!
Others who contributed to our evening of fun were Annette and Barry, Ben, Dave, Abib, Tina, Phil and Roberta, Andrew, Dallas, Chris from the Big Act band and rowdy Krista. Cheers to Krista for having herself a ball and for letting loose after all these years. Welcome back to the scene honey!
HELIUM sincerely hopes to party with our newest friends soon, and await the Player's Sports Bar's call back. Until then folks…party on dudes!
---
GLUE POT PUB - Ottawa - February 16, 2007
---
Another exciting home gig! HELIUM hadn't rocked the
Glue Pot Pub
since October of last year. We were eager to return. The only thing we didn't miss were those damn stairs. Argh!!!
The staff permitted us to play from the floor rather than being barricaded in the "stage" section we had used in the past. We were very happy about that. Free to move and more personable with the crowd. We were also very happy to see that our newest song additions to the set continue to please our listeners.
On this last weekend of Winterlude, we were privileged to play for some of its visitors. Devin, in particular was visiting from Saskatoon. We made sure to tell him about tasting his first Beaver Tail. Hope he enjoys the remainder of his stay in Ottawa. Nice meeting ya man!
HELIUM wants to say hello and thanks again to Lise and André, Ben, Johnny, Mike and Tina, Mike and Kim, Irène, Céline, Louis and Gary. Oh, and some more shout outs to "Dusty and the Gang". We had a great time with all of you.
Check and see if we got you on camera somewhere…
Take care gang! Hope to see you soon!
---
ATLANTIC HOTEL - Alexandria - February 2, 2007
---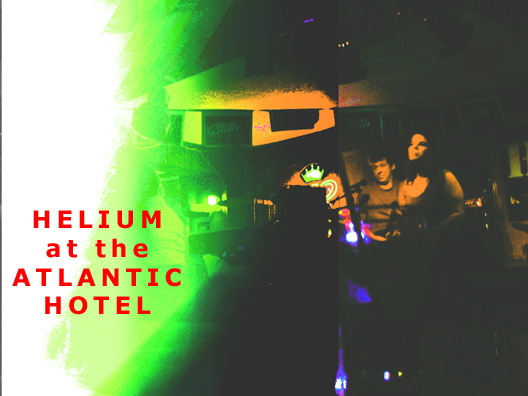 This was our first 2007 gig and we were absolutely psyched to have begun the year with our friends of the Atlantic Hotel.
The road trip was a little scary as we hit quite the heavy snowfall. The roads and visibility were awful! We still made it up in one piece and were able to set up in a timely manner. HELIUM delivered another full filled evening of rock faves. We sure were privileged to be part of this fine Friday night party!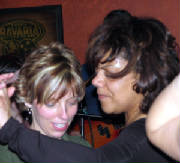 Our loyal HELIUM followers, Chloe & Brent, were ecstatic to introduce us to all of their friends whom they convinced to catch our show. They filled up the room very nicely. Huge thanks to Lynn D., Lynne V., Rose, Nancy, Serge, Julie, Stéphanie and Robert. Really nice meeting you and we hope that you come back for more soon. We trust that we filled your rock needs. Other appreciations go out to Clint and Noel Lacombe for their focused attention to the band and for interesting conversation. HELIUM nods. Oh, and thanks to Jimmy & France for the beer. The timing for its consummation was perfect! Ah!!!
Big hugs and kisses to the wonderful staff, once again. Bridget, Josée, 6" tall waitress lady and brunette girl continue to look pretty and provide great service.
We also confirmed that doorman Chappy does not get cold near the doors as he is equipped with a heavy sweater. Gosh…what a relief dude!
See you soon!