---
TONY CHOY
Lead and Rhythm Guitar, Background Vocals
---
Tony started playing guitar at age eleven, when he snuck into his brother's room and "borrowed" his $20 acoustic guitar. The rest is history!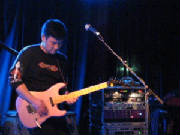 Tony's very first live performance was in a talent show during the Tulip Festival at age thirteen. One of the songs performed with his friends Dave & Brad was "Me, You & A Dog Named Boo".
Tony has been playing for over 25 years with various local bands, from 80's Glam to an Acoustic Trio and everything in between.
Influenced by Ace Frehley, Eddie Van Halen & Randy Rhoads. Tony soon developed his own style "The Art of Noise".
Tony's Favorite Albums

The Beatles – White Album (1968)

KISS – Alive 1 (1975)

Van Halen – Van Halen (1978)

Boston - Boston (1976)

Eric Johnson – Tones (1986)