---
PHATTY KATS - Cornwall - October 20-21, 2006
---
Our weekend in Cornwall was definitely an amusing time. Everything went smoothly except for the unexpected snowfall we encountered on the way. Luckily it melted within hours. Some residents expressed how bummed out they were over the whole thing. "How dare Mother Nature impose snow on us before Halloween!"
HELIUM performed for an exciting crowd on the Friday evening and an even wilder crowd on the Saturday. We were alert and on a mission to keep them folks dancing. Our people displayed high energy all weekend long and assured us that they enjoyed every minute of the party.
We met a lot of new people and scored some new HELIUM fans. As per their request, Karey and "Bouncer Roger" each received a pair of Flo's drumsticks. Why not autograph them while we're at it! ha ha Others who contributed to such a special weekend were Cindy and buddy Mario from Montréal, Tammy and Nat "The Brat", Sylvie-Anne, Pierre, Adèle and Shawn, Mike and "crazy Quebecer ladies".
HELIUM also thanks Jay, Al and Laurie, as well as Jordan for great laughs and for keeping their table loud and rockin'. Oh…and thanks for retrieving Brigitte's lost earring. The shooters were tasty weren't they?!
The Phatty Kats staff: Claude, Lisa, Josée and DJ Hightower worked good shifts and were as courteous as ever. We also hope that Phatty Kats owner, Denis was able to capture some nice photo shots of the marvelous weekend.
HELIUM eagerly awaits their return date of December 15th.

See you then guys and gals!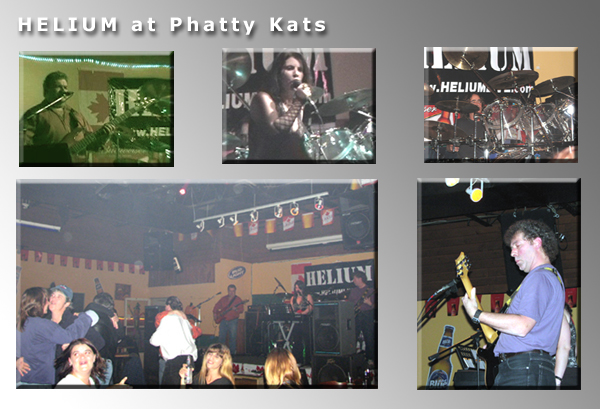 ---
ATLANTIC HOTEL- Alexandria - October 13, 2006
---
An awesome turn out for this fine Friday the 13th. None of us encountered any bad luck. Flo made it a point to 'knock on wood" beforehand!

The Atlantic gave another nice welcome back to the band. There were many rockers among us who were determined to party hard. As of the 2nd song of the evening, folks were up and dancing. HELIUM was determined to keep the ball rolling all night. It wasn't a difficult task and the dancing never ceased.
On stage, looking out into the room, it is always so amusing to watch the dancers. People display great body language to the feel of the rock music. Those who stood out the most were Joanne, George, Michelle Ann, Rosco, Naiomi, Chloe and Brent, Marc (guidoune), Lianne and Tina. Mélanie and Matt preferred to rock out near the pool tables. We had a great party. It almost got out of hand when Naiomi and pal came aboard the Crazy Train. We weren't sure if there'd be enough seats...nor room up there with us. We all survived!!!
Happy Birthday, once again, to Randy and Kelly. It was loud in their corner, I tell ya! Lots of fun!
HELIUM thanks all of the Atlantic's on-duty staff: Richard, Bridget, Myriam, Sheila, Josée and doorman Randy. We tried to cash in our beer tokens as best as we could. Once again, thanks gang! Very much appreciated.
Another fun rockin' time. We're looking forward to going back on December 29th. 'Til then.
---
RIDEAU TAVERN - Smiths Falls - October 7, 2006
---
Taking a little trip out to Smiths Falls added a nice touch to our weekend. Not only did we have a fabulous time, but none of us had visited "The Rideau" since it undergone changes.
We noticed a few extra TV screens, a Saturday "Ladies Night", Steve the new DJ, etc. What didn't change are the many friendly faces we recognized. After a year, it was pretty cool to be reacquainted with Gil and his gal, Karen, Brenda, Nancy, Craig, Ron and staff Leah and Sherry. Thanks for remembering our previous performances and for insisting that we come back. HELIUM loves rockin' with you.
Big thanks to Marleen and Rebecca for expressing their appreciation to the band, and thanks again to Tammy, Karen, Brenda and Nancy for signing our Guestbook They are swell and we're glad they had a good time.
Call on HELIUM again ya hear!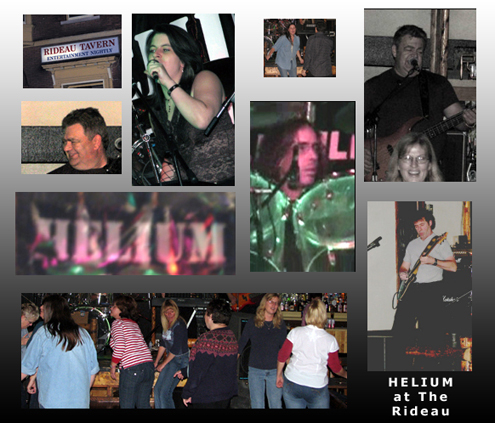 ---
THE GLUE POT PUB - Ottawa - October 6, 2006
---
Another fantastic evening of rock. The
Glue Pot Pub
is always such a cozy little place. You can always expect a positive and receptive audience. HELIUM did not disappoint.
J.P. was excited to bring in his newest guitar. What a piece of work...and it's green too! It definetly suits him well. Flo seemed a little grumpy as he didn't get to eat during pre-show. Nevertheless, he never ran out of fuel. Brigitte exercised her right to rock. People wonder where she finds her energy. So do we sometimes!!!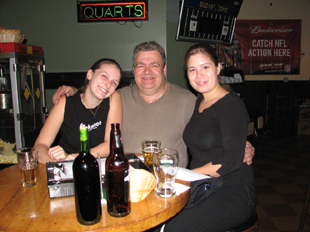 Bob was in a strange, funny mood as usual. Fridays nights treat him well and he always delivers a good show. Even the lady bar staff, Shawlee and Erin, fed on his smooth vibrance.
HELIUM thanks Rick, Ben, Bill, Cynthia, Roger and pub owner Sonia for such great company and rockin' support.
Big thanks to Doug, also, for helping us out with our gear. The guy can haul anything...scary!!!
Other thanks and hellos go out to Johnny, Hélène, Alice and Paul, Céline, Jim and Anne. Let's party again soon. Happy Thanksgiving to all!!!
---
FINNIGAN'S PUB - Ottawa - September 22, 2006
---

HELIUM rocked Finnigan's Pub once again. It started off a little shaky, admitedly, but all was soon adjusted. Stuff we will laugh about later!!!
The best thing about gigging on a Friday night is the reassurance that our listeners are starting off their weekend in a rockin' mode. Our HELIUM friends and fans exercised their normal routine by popping in near 11pm. We expected you!!! We just knew you wouldn't let us down.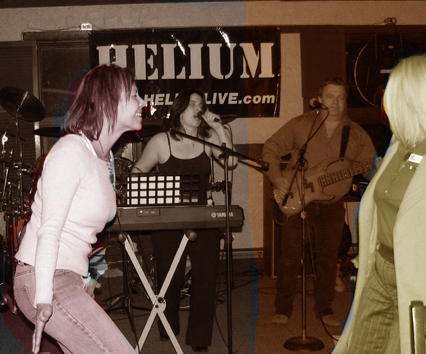 Big hellos and hugs go out to Cassidy, Ken, Nancy & Co., Serge, Luc & Hélène, Joanne, Angie, Keith, Pat, Edith, Gail, Day, Phil & friend, Annick, Michelle, pretty Mandy, Amanda, Roundcat and many many more........
Would they forgive us if we forgot anyone?
HELIUM also wishes our friend Orion a safe and fun trip out to PEI. All the best dude!
Musical friends and acquaintances of Black Cherry also popped in for a visit. How we appreciated catching up with them. It had been too long! Brigitte sends her smooches to the hard working bunch. Thanks for the "thumbs up" guys...and gals!!! Glad you were able to escape from your stage clothing for a while. It's nice to have a break huh? ha ha Lotsa love.
Also...a quiet, yet, happy-go-lucky John Hughes of Daisy Train crept up and came out for a couple. It was nice to be reacquainted. Flo enjoyed reminiscing his time jamming with him in their Caught in the Act days. Brigitte finds him adorable. Hey Johnny! Next time...try to catch us before "last call"!!! Silly rabbit!
Thanks again to Finnigan's Pub staff: Jay, Tim, Chantal, Collie, Miah and Mike. Such nice people! We had a blast! HELIUM awaits another invitation and can't wait to see you all again.