ATLANTIC HOTEL - Alexandria - August 25, 2006
---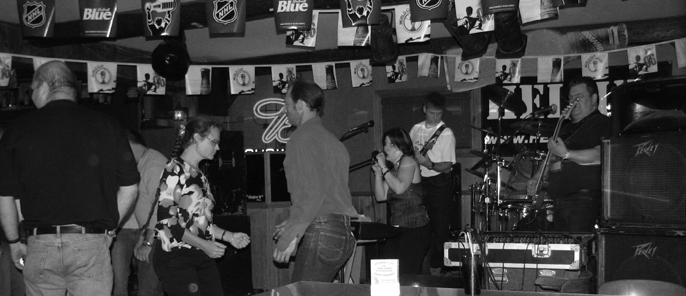 JP and Luc Ménard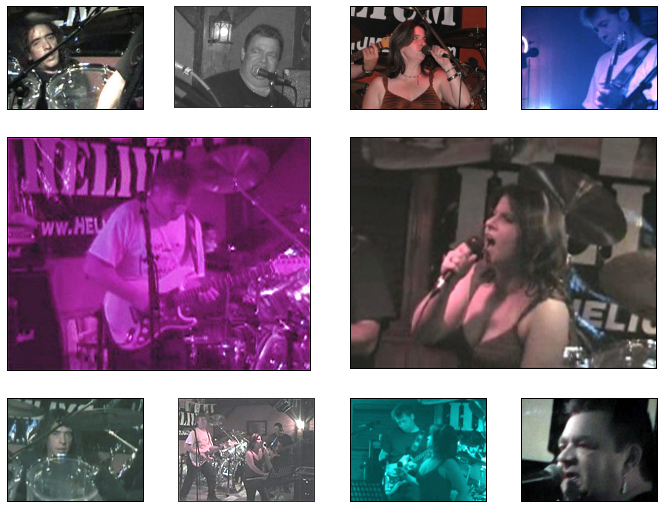 Winchester Dairy Fest 2006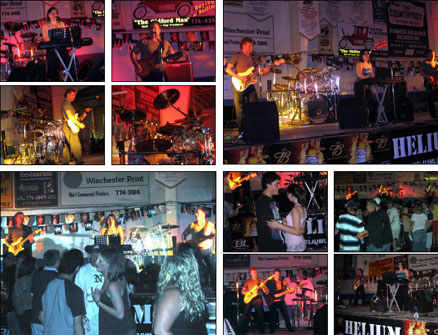 Other great thanks go out to Barry, Jason, volunteers and staff for an awesome job. Most of all, we thank organizer, Ms. Janine Stevensen for coordinating things very well and for making HELIUM feel welcomed. Thanks for the beer tokens too!
Lots of fun for everyone! You must not miss the annual Winchester DairyFest!!!

It was also a thrill to have "bride to be", Chantal, come out with her girlfriends to celebrate her bachelorette party with us. They kept that party up! Hope Chantal made it through alright! A little later, we had a girl named Hollie have her fun singing and hopping on stage with us to one of her favourite songs. Good stuff girl! Pals, Pat and Rob were impressed by our set list and drank to us all night. Thumbs up and Cheers right back at them! Brothers, Roy and Dennis V. were also an enthusiastic bunch. You guys had such great conversation.
It was a gig not to forget. The Cornwall folks sure know how to party!!! HELIUM would be pleased to rock with them anytime.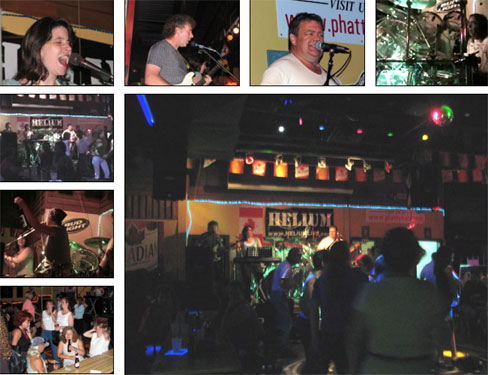 An Adventure in Chocolate!

Yes indeed it was!

HELIUM was invited to Smiths Falls' annual Hershey Chocolate Festival. As we arrived, the

Do Little's

staff was busy filling their "kiddy pool" with melted chocolate. What do you suppose its purpose was for?
Throughout the evening, we assisted the Molson Extreme Team with their fabulous prize give-aways. Congrats to all of the lucky winners from the marvelous crowd. Matt and Krista sincerely hope you all enjoy your new beer T-shirts, hats, keychains, coolers and Bluesfest 06 passes. Awesome prizes for everyone. Everyone had such a good time with these young workers. Exceptional job guys!
Matt from the MOLSON EXTREME team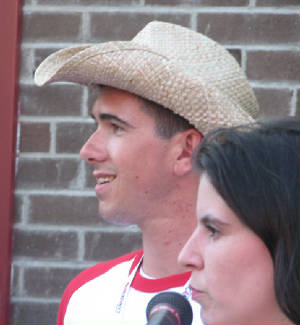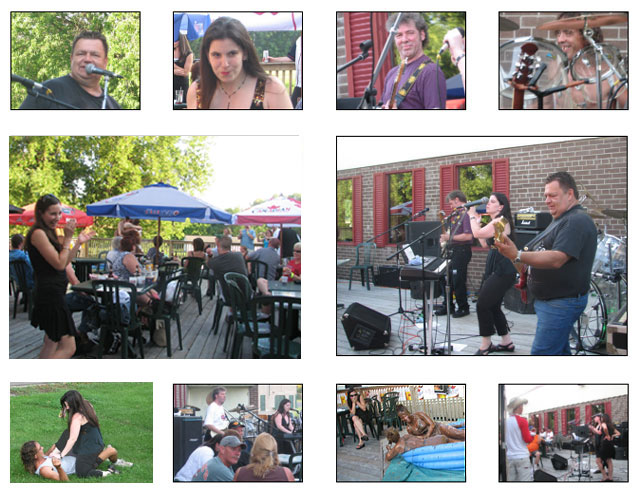 Luc Lachapelle
The
Glue Pot Pub
staff was, once again, very courteous. Big thanks to Sonia for inviting us back so soon. Shawlee and Erin were also very
quick at keeping us thirsty musicians refreshed.
We'd like to say hello to our new and old HELIUM friends who spent the evening with us: John Morrison, Richard from Tallahassee, Bluesfest organizer Jerry, also, Joanne, Céline, Paul L., Hélène, Misty and Luc. Did you enjoy wailing on that Fender, Luc? ha ha It was a thrill to have you jam with us.
Big hugs to everyone. We really enjoyed our evening with each and every soul in the house. 'Til next time.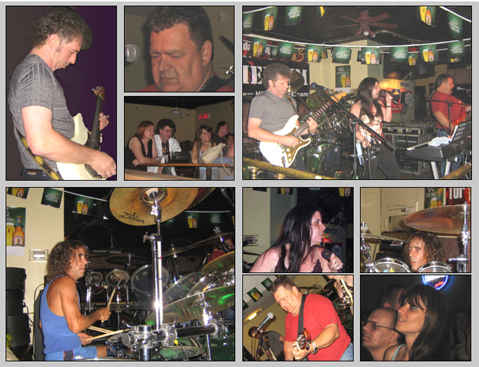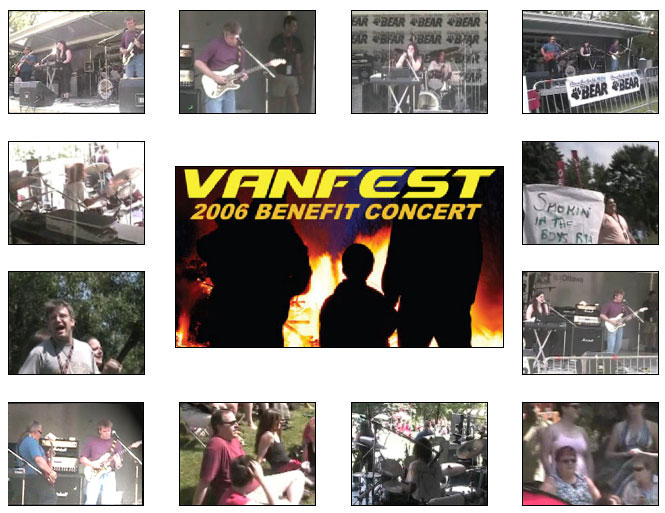 Playing outdoors is always such a treat and we're sure all the other great bands in participation can vouch for that! Thanks to Guillaume and Paul for making everybody sound good under difficult circumstances (10 different bands in a row - ya gotta do it). All of the entertainers, from all around, were solid and absolutely rocked the Park. HELIUM was very pleased to be among this awesome lineup. Thumbs up go out to all of you beautiful musicians! We were especially glad to have made new musical acquaintances such as: SIN Silver of Montréal, Transmission, The Scarecrows, Sandstorm and Miguel "Hetfield" of Misery. We hope to rock with you again some day soon.
All friends and families appreciated the wide musical versatility, the food, the drinks, the sun, visiting the ducks and geese, the face painting... My God...it was a fun filled day.
A big HELLO and THANKS, to all of our HELIUM friends who continue showing their rockin' supportive attitude. We love you all so much and we hope you enjoyed your day.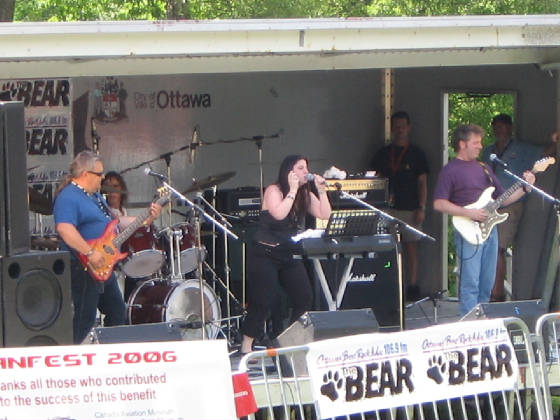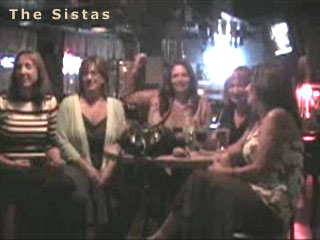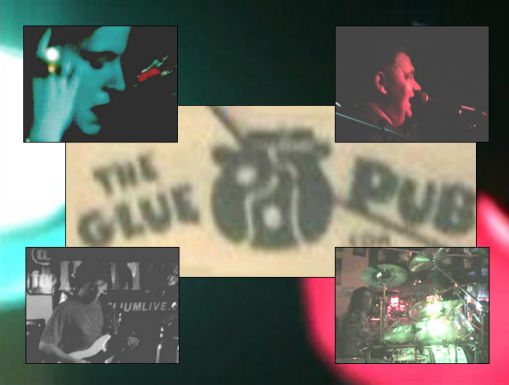 ---
FRED'S STEAKHOUSE - Chapeau - June 3, 2006
---
HELIUM enjoyed their first experience at Fred's Steakhouse in Chapeau. We had the pleasure of meeting very nice people and to share our knowledge about the small village with them. They were all very receptive and extremely friendly.
Can't get over the "Silver Beavers" tragedy!!!
Thanks to staff: Odie, Jay, Christine, Cindy and that 30 lbs. cat in the recreational room. (WOW) Another thanks to André, Pat and Mr. Crazy Dancer. You know who you are!! See you again soon.
HELIUM at Penalty Shotz
Photos courtesy of Hélène H.